House Party Essentials
Love to entertain? Be prepared to host a sizzling soiree on a moment's notice by stocking up on these party essentials.
(page 3 of 3)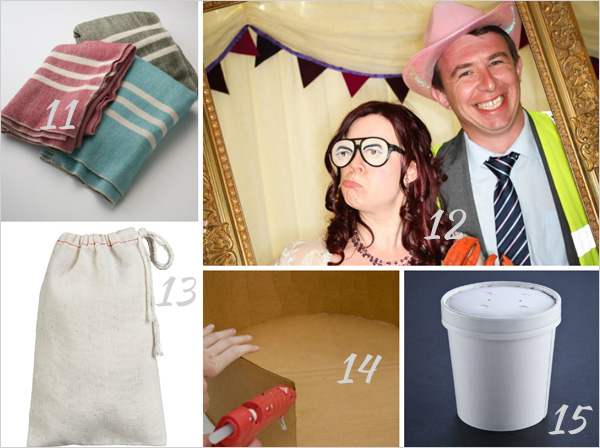 If you're entertaining outside during chilly weather, be a thoughtful hostess and set out a stack of cozy blankets with a sign inviting guests to bundle up.
12
Empty picture frame and camera
Nothing encourages silliness more than a photo booth. Keep it simple by hanging a jumbo empty picture frame, and setting out a few fun props and camera.
Stock up on small muslin bags to use for party favors. Fill with soaps, candy, jam, cocoa packets, candles or cookies. Use stamps or freezer paper stencils for a personal touch.
Who says pinatas are only for kids and Cinco de Mayo? Raid the storage room for cardboard, a glue gun and crepe paper. If you're hosting an adults-only get-together, fill the pinata with mini liquor bottles (in addition to the usual candy and toys) for a fun surprise.
As a rule, we abide by the three R's, but we do make exceptions for big parties. If you don't want to end up with a towering stack of dirty dishes, buy versatile jumbo paper cups in bulk and use them to serve soup, chili, pasta – or even to send guests home with leftovers. Shop Garnish to buy these in smaller quantities.
Tip
What's a party without always-on tunes? Use your Windows Phone to stream music with your Xbox music pass.
More from SheKnows
3 Dinner party themes
How to throw a last-minute party
Appetizer ideas to start the party right