Baked not fried
Love doughnuts but not the calories? With these peanut butter-glazed baked chocolate doughnuts, you won't feel as bad about indulging.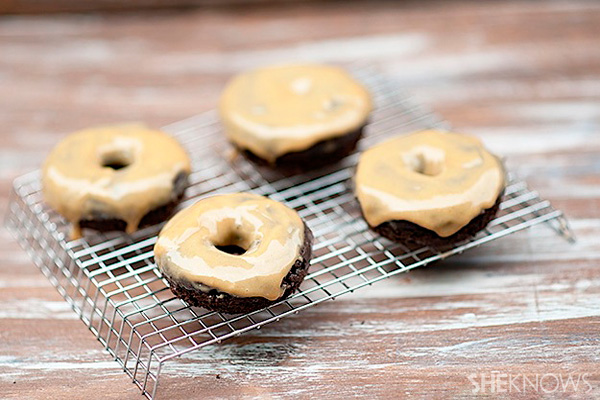 We love that these baked chocolate doughnuts are a little healthier than traditional fried doughnuts, but what's even better is you don't have to drag the deep-fryer out for this recipe. Win, win!
Peanut butter-glazed baked chocolate doughnut recipe
Doughnut recipe adapted from Allrecipes
Yields 6
Ingredients:
For the doughnuts:
1 cup flour
1/4 cup plus 2 tablespoons sugar
1 teaspoon baking powder
1/4 cup cocoa powder
1/2 teaspoon salt
1/2 cup buttermilk
1 egg
1/2 teaspoon vanilla
1-1/2 teaspoons melted butter
For the glaze:
2 tablespoons butter
1/4 cup peanut butter
1/4 cup powdered sugar
1 tablespoon milk
Directions:
For the doughnuts:
Preheat the oven to 325 degrees F. Lightly grease a doughnut pan.
In a large bowl, whisk together the flour, sugar, baking powder, cocoa powder and salt.
In a small bowl, whisk together the buttermilk, egg, vanilla and butter.
Add the wet ingredients to the dry ingredients and stir until well combined.
Pour batter into the prepared pan and bake for 10 minutes or until cooked through. Remove from the oven and cool in the pan for a few minutes, then transfer to a wire rack.
For the glaze:
In a small saucepan, heat the butter and peanut butter over low heat until melted and smooth. Remove from the heat and whisk in the powdered sugar and milk.
When the doughnuts are cool, dunk in the glaze and return to wire rack to set up.
More Daily Flavor
Slow cooker dulce de leche
Chocolate Fluffernutter banana bread
Flourless peanut butter chocolate chunk cookies