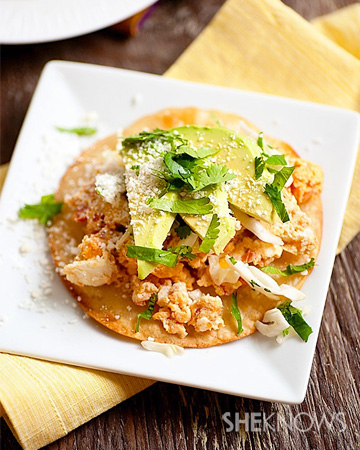 Break a few eggs for breakfast
Scrambled egg breakfast tostadas might not be your standard diner dish, but we think you'll be hooked after one bite.
Tired of plain ol' bacon and eggs every morning? These spiced up breakfast tostadas with scrambled eggs, salsa and avocado will start your day off with a bang. Amp them up with more salsa and plenty of extra hot sauce to taste.
Scrambled egg breakfast tostada recipe
Serves 2
Ingredients:
Canola oil
2 corn tortillas
4 eggs
1/4 cup salsa
1/2 cup shredded cabbage or cole slaw mix
1/2 tablespoon lime juice
1/2 avocado, sliced
1/4 cup cotija cheese (or substitute feta)
Chopped cilantro
Hot sauce
Directions:
In a small pan, heat about 1/4 inch of oil to about 350 degrees F.
Place a tortilla in the oil and fry until starting to crisp. Flip tortilla and continue frying until crisp. Remove and drain on a paper towel. Repeat with the remaining tortilla.
In a small bowl, toss the cabbage with the lime juice. Reserve.
In another bowl, beat the eggs.
Pour into a medium skillet over low heat and scramble. When the eggs are almost cooked, stir in the salsa and finish cooking to desired doneness.
Place half of the eggs on each tortilla. Top with the dressed cabbage, sliced avocado, cheese and cilantro.
Serve with hot sauce.
More Daily Flavor
Breakfast skillet with chorizo and eggs
Funfetti cake waffles
Caramel apple pancakes