Kick your crackers
up a notch
Sometimes simple comfort food is all you need. These quick-and-easy spicy ranch crackers will hit the spot every time.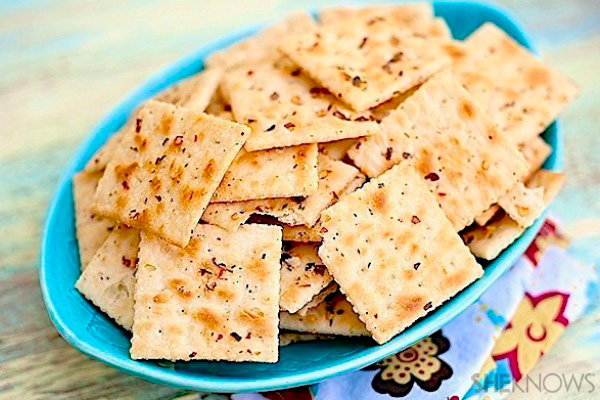 Skip the fancy cheese and spreads and dive into these deliciously spicy saltine crackers. They're perfect all by themselves.
Spicy ranch crackers recipe
Ingredients:
1 packet ranch dressing/seasoning mix
2 tablespoons red pepper flakes (or to taste)
1 cup canola oil
2 sleeves saltine crackers
Directions:
Preheat oven to 250 degrees F. Place a wire cooling rack on top of a rimmed baking sheet.
In a gallon-sized zip-closed bag, combine the ranch mix, red pepper flakes and oil well. Add the crackers and seal the bag. Carefully shake the bag to coat the crackers with the oil mixture as evenly as possible.
Pour the crackers onto the wire cooling rack and spread out as much as possible. Bake for 10 minutes.
Flip the crackers and continue baking for 15 minutes. Remove from the oven and allow to cool completely before serving.
Store in a sealed container.
More Daily Flavor
Olive and goat cheese tartlets
Jalapeño bacon dip
Truffle-roasted tomato hummus