Take a (sweet) dip
Dips don't have to be savory. This nutty chocolate chip cookie dough dip makes a fun dessert for a crowd.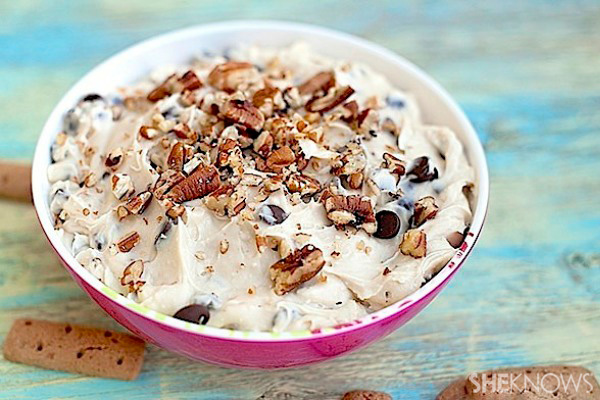 Eating the cookie dough is the best part of making cookies and with this dip you don't even have to go to the trouble of turning on the oven. Whip up a batch for dessert tonight.
Nutty chocolate chip cookie dough dip recipe
Adapted from Taste of Home
Ingredients:
8 ounces cream cheese, softened
1/2 cup butter, softened
1/4 teaspoon vanilla extract
3/4 cup powdered sugar
1/4 cup brown sugar
1 cup miniature semisweet or milk chocolate chips
1/2 cup finely chopped toasted pecans
Graham cracker sticks or sliced apples, for dipping
Directions:
In the bowl of an electric mixer, beat together the cream cheese, butter and vanilla until light and fluffy. Add in both sugars and beat until just combined. Fold in the chocolate chips and nuts.
Refrigerate for at least 30 minutes before serving.
Sprinkle with extra chopped pecans, if desired, and serve with graham cracker sticks or apples.
More Daily Flavor
Quick-and-easy brownie trifles
Chocolate Fluffernutter banana bread
Funfetti cake waffles