What's cooking for chef and best-selling author Rocco DiSpirito? Well, everything you can think of! He's currently launching Triscuit's new Brown Rice Triscuit, has three more books in the works and a new AOL video series "Now Eat This! Italy."
On cooking…
"I've made it my life's work to change people's perception of healthy food by making low-fat, low-calorie dishes that are delicious and easy to make at home."
SheKnows: When did you first realize you wanted to be a chef and had a passion for food?
Rocco DiSpirito: At my first restaurant job at Sutphin Pizza in Jamaica, Queens. Even though I was only allowed to cut slices and scoop Italian ice, it was love at first sight.
SK: What is your favorite type of food to cook?
RD: I love to cook anything healthy. My "flash-fried popcorn chicken" is one of my favorite dishes because it has all the flavor of fried chicken, but one-third of the calories.
SK: What is your favorite healthy food to eat?
RD: Greek yogurt. I put it in everything. It adds so much flavor and texture to ordinary dishes without tacking on all the extra fat and calories.
SK: Favorite splurge food?
RD: Bacon cheeseburger, fries and a shake from Shake Shack. Who doesn't love a good burger and fries every once in a while?
SK: How often do you cook at home?
RD: Almost every day. I love taking an old traditional dish and putting my spin on it. Experimenting in my own kitchen allows me to get creative and, hopefully, those new recipes will inspire others to do the same.
On summer…
SK: Summer is finally approaching, and grilling can be a great way to cook healthy, nutritious meals. Do you enjoy grilling? Any grilling secrets you care to share?
RD: Grilling is my go-to summer cooking method. Anything and everything can be prepared on the grill. Make sure your grill is always hot and use wood or charcoal versus gas whenever possible.
SK: How do you typically spend your summers?
RD: I enjoy gardening, bike riding, cooking and playing with my dogs. I love being outdoors in the summer so anything I can take outside, I try to! Staying active and working new hobbies into my day-to-day life really allows me to enjoy my surroundings and keeps me excited about a healthier lifestyle.
SK: Do you enjoy entertaining — such as having people over for barbecues, or do you prefer to be the guest?
RD: I love both, but I love to entertain more than being a guest. Entertaining allows me to showcase my talents as a chef, experiment with new ingredients and encourage others to make healthier choices.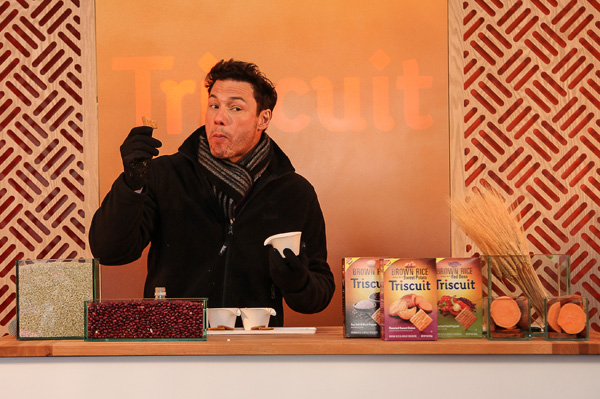 On current projects…
SK: You recently joined with Triscuit to help launch the new Brown Rice Triscuit — what inspired you to do this?
RD: I've made it my life's work to change people's perception of healthy food by making low-fat, low-calorie dishes that are delicious and easy to make at home. Triscuit has always championed simple, wholesome ingredients, and the Brown Rice Triscuit is an exciting new development. I love that a brand like Triscuit continues to offer a wholesome snack. And it's right in the cracker aisle!
SK: How can we go about making everyday meals healthier?
RD: Use my recipes! I spend a lot of time working out how to balance the healthy and the delicious so you don't have to. Here are a few tips to help you make better choices every day:
Get rid of sugar from your diet. Good sweetener substitutes you can try are monk fruit extract, stevia, agave nectar and coconut nectar.
Use xanthan gum to thicken smoothies and shakes in the blender. It will give you that rich and creamy texture you would normally get from fat but without all the calories.
Stay away from fast food. Cook a little more and make sure you sneak cruciferous veggies into your family's diet (i.e., broccoli, cauliflower, kale, etc.).
SK: Can you share with us a recipe featuring the new Brown Rice Triscuit?
RD: My "nacho bean dip" is a great choice. In this recipe, I use lean turkey and whole red beans, and instead of nachos I use Brown Rice Triscuit crackers. By using these substitutes, you'll be able to cut the normal amount of calories in this dish by 75 percent!
SK: And finally, we love your Now Eat This! cookbooks — are you planning on releasing more?
RD: Not only are there three more books coming, but my AOL video series, "Now Eat This! Italy," is launching in early June. You can watch me cook the dishes from my book, and then you can order those dishes online. They will be sent fresh to your home, ready to eat. How cool is that?
More on healthy eating
5 Simple tips for healthy eating on the go
5 Healthy habits for summer slimdown
6 Healthy eating myths — debunked
Photo credits: Joseph Marzullo/WENN.com, Kyle Blair/WENN.com