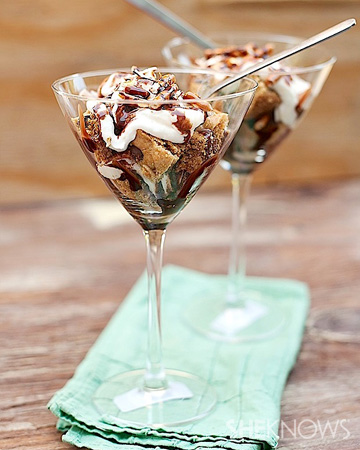 An easy but impressive dessert
A quick-and-easy brownie trifle becomes an impressive dessert when layered in a martini glass and is a perfectly sweet ending to a cocktail party.
These sweet and salty brownie trifles are super easy to make and can be customized by adding more or less of each ingredient.
Quick-and-easy brownie trifle recipe
Yields 8
Ingredients:
Directions:
Cut the brownies into 16 squares.
For each glass, cut 2 brownies into bite-sized pieces and place a single layer in the bottom of your glass. (A cocktail glass or Mason jar makes perfect individual servings.)
Top brownies with layer of whipped cream. Sprinkle on the pretzels and peanuts. Drizzle with chocolate syrup and caramel ice cream topping. Repeat the layers until the glass is full.
More Daily Flavor
Peanut butter and Nutella sandwich cookies
Chocolate pretzel beer toffee
White chocolate confetti cookie pie