Better banana bread
Kick up your banana bread a notch up adding peanut butter, hot fudge sauce and marshmallow fluff. It's like having dessert for breakfast!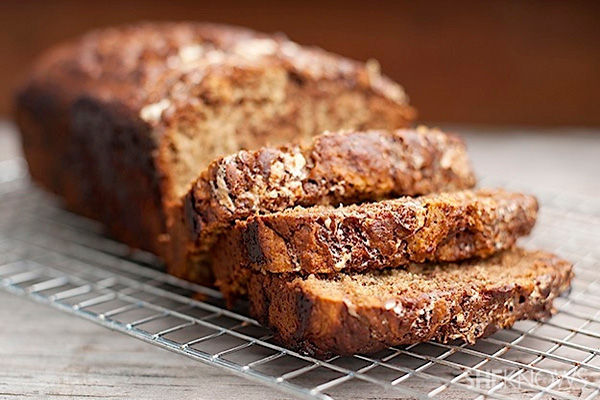 Did you eat Fluffernutter sandwiches as a child? You can have that winning combination of marshmallow fluff and peanut butter again with this over-the-top banana bread recipe.
Chocolate Fluffernutter banana bread recipe
Ingredients:
1 cup mashed bananas
2 eggs, beaten
1/2 cup vegetable oil
1/3 cup buttermilk
1/2 cup creamy peanut butter
1-1/4 cups sugar
1-3/4 cups flour
1/2 teaspoon salt
1 teaspoon baking soda
1/2 cup hot fudge sauce
1/2 cup Marshmallow Fluff
Nonstick cooking spray
Directions:
Preheat oven to 325 degrees F. Spray a 9 x 5-inch loaf pan with cooking spray.
In a large bowl, mix together the banana, eggs, oil, buttermilk and peanut butter.
In another bowl, mix together the sugar, flour, salt, and baking soda. Add dry ingredients to the banana mixture and stir until just combined.
In separate small bowls, warm the hot fudge sauce and the Marshmallow Fluff in the microwave until just pourable.
Pour half of the banana mixture into the loaf pan. Drizzle about half the hot fudge and half the Marshmallow Fluff evenly over the banana mixture. Swirl through the batter with a knife.
Pour the remaining banana mixture into the loaf pan and drizzle with the remaining hot fudge and Marshmallow Fluff. Swirl with a knife.
Bake for 1 hour and 15 minutes or until a cake tester comes out clean.
More Daily Flavor
Peanut butter and Nutella sandwich cookies
Peanut butter caramel-topped shortbread bars
Chocolate pretzel beer toffee