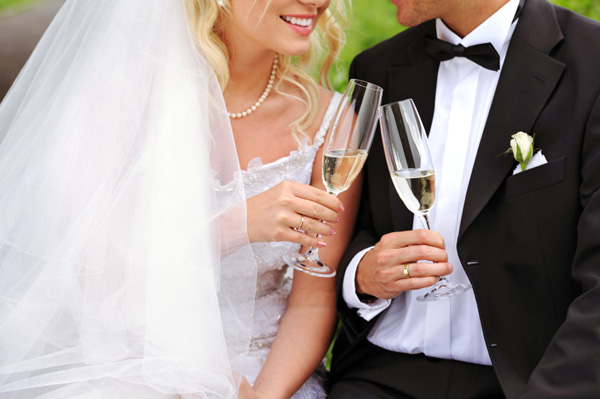 Best champagnes
at any price
When planning your wedding, every detail matters — from the types and colors of flowers you choose to the Champagne you drink during the toasts. Choose Champagne you'll want to raise your glasses with, on any budget!

The clinking of glasses and listening to toasts by your loved ones is an extremely emotional and memorable part of your wedding. Your budget will, of course, determine what type of Champagne you'll be drinking. Just because you're on a tight budget doesn't mean you need to sacrifice taste and quality. We found the best Champagnes for any budget — and we're certain you and your guests will be pleased with our selections.
Best Champagne
under $25
While it's difficult to find French Champagnes for less than $25, it's rather simple to find a delicious bubbly from somewhere in the U.S. or even Spain. Our favorites include:
Roederer Estate Brut, $20. One of California's premier sparklers, Roederer Estate Brut is a sleek and balanced Champagne with hints of apple, vanilla and cinnamon.
Freixenet Cordon Negro Brut, $12. This comes in a black bottle and screams sophistication — certain to impress your guests. It's a full-bodied, standard Champagne with bright apple, pear and citrus flavors.
Best Champagne
under $50
If you've got a little more to spend in the Champagne/alcohol department, consider the following Champagnes sure to make an impact on you and your guests' taste buds:
Perrier-Jouet Grand Brut, $50. A crowd-pleaser from France, Perrier-Jouet Grand Brut is light and dry with subtle hints of crisp apple and creamy vanilla.
Ayala Brut Majeur, $43. This champagne is aromatic on the nose and pairs perfectly with Asian cuisine or seafood. Hints of apple, raspberry and lemon make Ayala Brut Majeur unforgettable.
Best Champagne
under $100
Perhaps you're having an elegant wedding serving guests with sophisticated palates. If so, the following Champagnes are sure to delight:
Moet & Chandon Rose Imperial, $65. Champagne-lovers agree that this is the best! It's fruity, smells of wild strawberries and has hints of raspberry and cream. Originating in France, Moet & Chandon Rose Imperial is romantic and sensual.
Veuve Clicquot Demi-Sec, $60. A clean, brilliant yellow Champagne that's fresh and fruity — without being too sweet — is Veuve Clicqout Demi-Sec. Any palate will love the smooth flavor with hints of praline.
Best Champagne
over $100
And finally, if you're willing to splurge on the best Champagne out there — after all, it is your wedding day — don't miss our top picks for Champagnes over $100:
Bollinger Grande Annee Brut, $129. This exceptional Champagne is so prestigious it's only produced when the best harvests occur. It's rich, complex, and we love its rose-gold color. Flavors include peach, pear, jasmine and lilac — certain to impress.
Dom Perignon 2003, $160. Like candied fruit, Dom Perignon is the Champagne of Champagnes, and you really can't go wrong with this classic. With hints of ginger, pear and lemon, Dom Perignon will have even the Champagne critics at your wedding coming back for more.
Tell us
What Champagne did you serve at your wedding? What is your favorite Champagne overall? Share in the comments below!
More on Champagne
Health benefits of Champagne
Know your Champagne: Options for New Year's
Champagne taste on a beer budget: A budget-friendly New Year's Eve