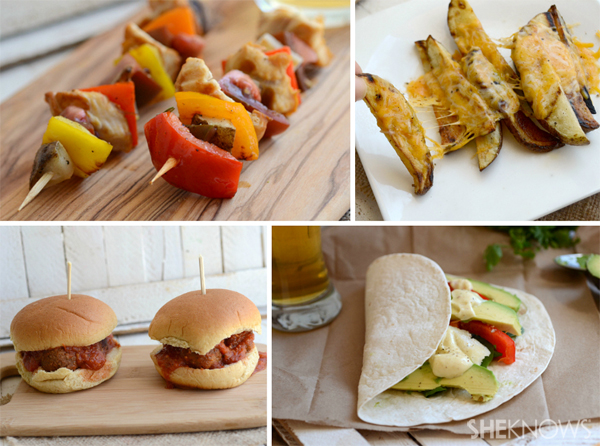 Easy and fast meals
for busy moms
Don't have the time, money or sanity to make a fancy meal for your family this week? Skip the take-out and make one of these homemade meals instead. All are quick, easy and low-budget!

You can't beat recipes that only require six ingredients and less than 30 minutes, are we right? These fresh meals are sure to become staples on your busy summer weeknights!
Yields about 4
Ingredients:
1 (8 ounce) boneless skinless chicken breast
1/2 medium red, yellow and orange pepper
1 medium potato, cooked and chopped
1/3 cup tequila
1 lime
Salt and pepper
Directions:
Mix the salt, pepper, lime juice and tequila in a large zip-closed bag. Add raw chicken and shake the bag. Chill for at least 3-4 hours to marinade.
Preheat a grill to medium-high heat. Add chicken and peppers to the grill and cook until done, about 4 minutes on each side.
Let cool slightly and cut into large chunks. Skewer the vegetables and chicken, alternating. Garnish with additional lime juice and serve.
Serves about 4
Ingredients:
2 tablespoons extra-virgin olive oil
2 large russet potatoes, each cut into 8 wedges
Salt and pepper
About 1/2 cup cheddar cheese
Directions:
Preheat the oven to medium-high heat. Mix the oil and salt and pepper in a large bowl. Add the potato wedges to the bowl and toss to coat.
Place the potatoes on the grill and cook for about 8-10 minutes, switching the sides so they cook evenly on both.
While potatoes are still hot, cover with cheese (it'll melt immediately).
Yields about 6
Ingredients:
6 slider buns
1/2 pound ground turkey
1/2 egg
2 tablespoons breadcrumbs
Salt and pepper
13 ounces (1-2/3 cup) marinara sauce
Directions:
Mix the ground turkey, egg, breadcrumbs and salt and pepper together in a mixing bowl with your hands. Form mini-meatballs with the mixture once it's combined (should make about 24).
Cover a large skillet with nonstick cooking spray and add meatballs. Cook until brown on all sides, about 5-6 minutes. Add the marinara sauce and heat another 5-6 minutes until warm.
Preheat the oven to 400 degrees F. Place the buns on a large baking sheet and heat for about 3-4 minutes, or until brown. Top each slider bun with 4 mini-meatballs and about 2 tablespoons of warm sauce. Serve immediately.
Yields about 6
Recipe adapted from My Recipes
Ingredients:
6 flour tortillas, warmed
3/4 pound cod
1/2 cup mayo-mustard sauce (use this recipe)
1/2 avocado sliced
Lettuce
Sliced bell peppers
Directions: 
Heat grill to high. Liberally coat with nonstick cooking spray. Place the cod on the grill and cook, covered, until browned on each side, about 6 minutes.
Cut the fish into large chunks. Place the fish, sliced bell peppers, lettuce and avocado into the tortillas. Top with about 1 tablespoon of sauce.
More quick budget eats
In a pickle: How to cook a gourmet meal on a budget
A tax season dinner menu that won't break the bank
Fast and frugal meals