Kick dinner up a notch
In the mood for a hearty bowl of noodles with tons of flavor? Add a little spice to your life with this Thai-style hot peanut sauce.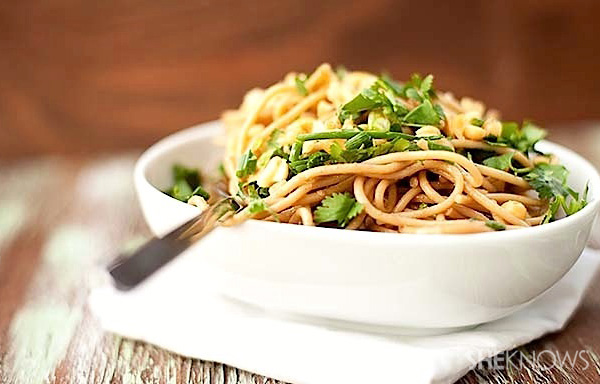 Set that jar of marinara aside and toss your noodles with spicy Thai flavors instead. Adjust the heat level by adding as much red pepper flakes as you'd like. After all — some like it hot!
Spicy Thai peanut noodles recipe
Adapted from A Small Snippet
Serves 4
Ingredients:
12 ounces dried linguini (or other noodles)
1-2 tablespoons red pepper flakes, to taste
1/2 cup sesame oil
1/4 cup peanut butter
3 tablespoons honey
6 tablespoons soy sauce
Chopped green onions
Chopped cilantro
Chopped peanuts
Directions:
Bring a large pot of water to a boil. Cook linguini according to package directions.
Meanwhile, in a small saucepan, heat the sesame oil and red pepper flakes over medium heat. Cook for 3-5 minutes. Pour oil mixture through a fine mesh strainer into a large bowl. Discard the pepper flakes.
Stir the peanut butter into the hot oil until well combined, then mix in honey and soy sauce.
When linguini is cooked, drain the noodles and toss in the bowl with the sauce.
Before serving, top with green onions, cilantro and chopped peanuts.
More Daily Flavor
Roasted quinoa mushroom risotto
Beef enchilada casserole
Sweet and spicy Asian chicken