No take-out tonight!
Make this sweet and spicy Asian chicken for dinner tonight, and you won't need those take-out menus anymore.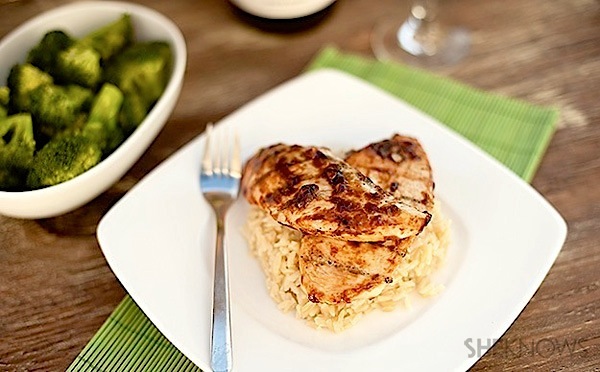 Serve this Asian chicken with rice, noodles or toss it in a veggie stir-fry for a healthy and flavorful meal.
Sweet and spicy Asian chicken recipe
Serves 2-4
Ingredients:
For the sauce:
4 tablespoons rice wine vinegar
2 tablespoons butter
2 tablespoons hoisin sauce
2 tablespoons brown sugar
1 tablespoon ground ginger
2 tablespoons garlic powder
1 tablespoon soy sauce
1 teaspoon cornstarch
1 teaspoon Sriracha sauce
1 teaspoon red pepper flakes
For the chicken:
1 pound boneless chicken breasts or thighs, pounded thin
Salt
Pepper
Directions:
For the sauce:
In a small saucepan over low heat, whisk all ingredients together. Cook over low heat, stirring often, for about 10 minutes, until reduced to desired thickness. Reserve. If needed, thin with a little water.
For the chicken:
Preheat the grill to 400 degrees F.
Season the chicken pieces with salt and pepper on both sides.
Place chicken on the grill. Brush the sauce over the tops of each piece of chicken. After about 4 minutes, brush the tops of the chicken with more sauce and flip over. Repeat with other side, brushing with sauce before removing from the grill.
More Daily Flavor
Beer-braised chicken sliders
Quick chicken Marsala
Chicken tortilla soup