Sweeten up your morning stack
Weekend breakfasts should be a special occasion, so why not treat your family to an extra-special batch of pancakes topped with caramel apples?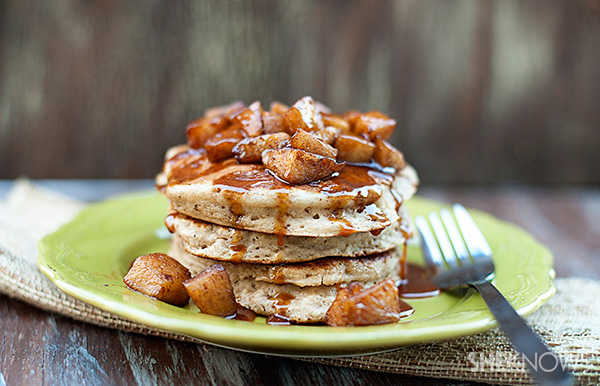 Take a few extra minutes to make an indulgent caramel apple topping for your morning stack of pancakes. They'll be a hit with both the kids and adults!
Caramel apple pancake recipe
Ingredients:
For the pancakes:
1 cup flour
2 tablespoons sugar
1 teaspoon cinnamon
1/8 teaspoon nutmeg
1 teaspoon baking powder
1/2 teaspoon baking soda
1/2 teaspoon salt
3/4 cup buttermilk
1 teaspoon vanilla
1 egg
2 tablespoons butter, melted
Cooking spray
For the caramel apples:
2 tablespoons butter
1 tablespoon brown sugar
1/2 teaspoon cinnamon
Pinch of salt
1 medium tart apple, peeled and diced
Caramel ice cream topping, warmed
Directions:
For the pancakes:
In a large mixing bowl, combine the flour, sugar, cinnamon, nutmeg, baking powder, baking soda and salt. In a small bowl, whisk together the buttermilk, vanilla, egg and melted butter. Pour the wet ingredients into the dry ingredients and whisk together until most of the lumps are gone, being careful not to overmix.
Heat a large skillet over medium heat and spray with cooking spray.
Pour batter into the skillet and cook until bubbles form on the surface. Flip the pancake and cook until browned on the bottom and cooked through.
For the apples:
In a small pan, melt butter over medium-low heat. Stir in the brown sugar, cinnamon and salt. Add the apples and stir to coat.
Cook for 5-7 minutes or until tender, stirring occasionally.
To serve:
Top the pancakes with warm apples and caramel sauce. Serve immediately.
More Daily Flavor
Pilsner waffles with caramel sauce
Quinoa carrot cake breakfast muffins
Breakfast skillet with chorizo and eggs