Easy homemade
lunch meat
Who knew it was so easy to make homemade lunch meat? This deli-style roast beef only takes minutes to prepare and the oven does the rest of the work for you.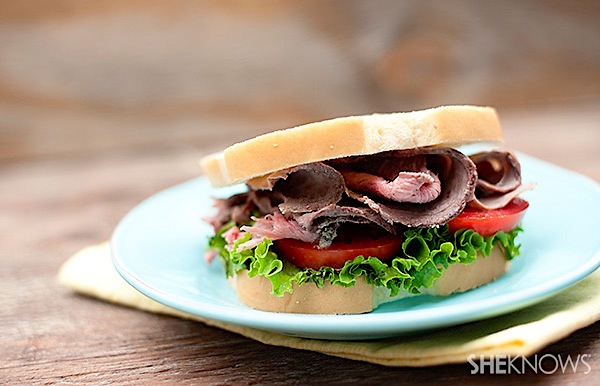 Skip the packaged lunch meat and make your own instead. A roast beef sandwich has never tasted so good!
Homemade deli-style roast beef recipe
Ingredients:
3 pound boneless chuck roast
2 tablespoons kosher salt
1 tablespoon garlic powder
2 teaspoons black pepper
1 teaspoon onion powder
Directions:
Preheat the oven to 475 degrees F. Line a rimmed baking sheet with foil.
In a small bowl, mix together the salt, garlic powder, pepper and onion powder.
Coat the roast in the spice mixture and place the meat on the prepared baking sheet. Roast for 20 minutes, then reduce oven temperature to 275 degrees F. Continue cooking until meat is cooked to desired doneness (about 40 more minutes for medium rare, 60 minutes for medium, 80 minutes for well done).
Remove roast from the oven, tent with foil and allow to rest for about 30 minutes. Slice thinly.
More Daily Flavor
Burnt ends grilled cheese sandwich
Grilled cheese rolls
Roast beef and caramelized onion grilled cheese