Spiced up comfort food
Make a classic Mexican favorite into a cheesy pasta casserole for a hearty and comforting meal.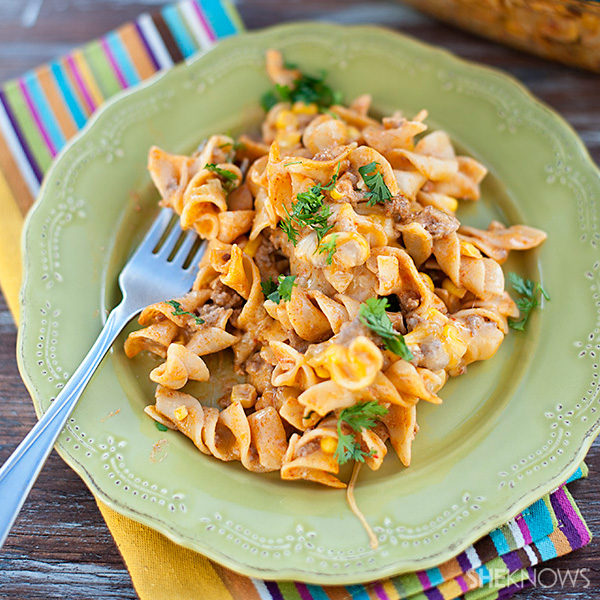 Get all the delicious flavors of beef enchiladas in this quick-and-easy casserole dish. You can't go wrong with three kinds of cheese!
Beef enchilada casserole recipe
Serves 6
Ingredients:
1 pound extra wide egg noodles
1 pound ground beef
1/2 teaspoon chili powder
1/4 teaspoon cumin
5 ounces cream cheese
1/4 cup sour cream
10 ounces enchilada sauce
1 cup shredded cheddar cheese, divided use
1 cup shredded Monterey Jack cheese, divided use
1 cup frozen corn kernels, thawed
4 ounces diced green chilies
Salt
Pepper
Chopped cilantro
Directions:
Preheat oven to 350 degrees F.
In a large pot, boil water and cook egg noodles according to package directions. Drain and reserve.
In a pan over medium heat, brown the ground beef and drain the fat. Stir in the chili powder, cumin and cream cheese. Cook over low heat until the cream cheese has melted.
In a large bowl, combine the sour cream, enchilada sauce, half of each shredded cheese, corn and chilies.
Pour the ground beef mixture into the sour cream mixture and season with salt and pepper to taste. Stir to combine, then fold in the the cooked egg noodles.
Pour into an oven-safe casserole dish and top with the remaining shredded cheese. Bake for about 15 minutes, until the cheese is melted. Sprinkle with chopped cilantro prior to serving.
More Daily Flavor
Avocado Alfredo pasta with spicy shrimp
Quick chicken Marsala
Smoky tomato, roasted red pepper and arugula pasta