Homemade is better
Everyone loves that classic black and white sandwich cookie, but this homemade version with peanut butter and Nutella will have you hooked.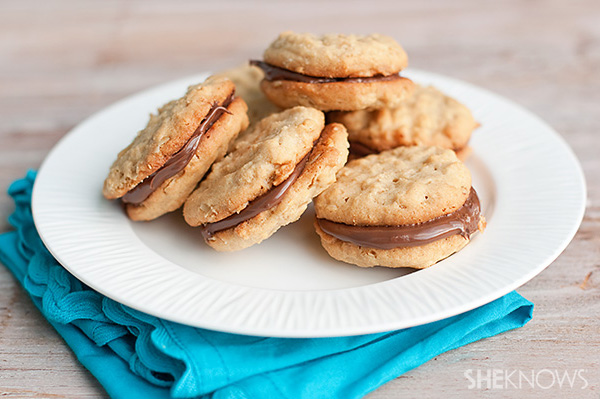 Who could resist a cookie full of deliciously smooth Nutella? You'll never buy packaged sandwich cookies again!
Peanut butter and Nutella sandwich cookie recipe
Yield depends on size of cookie scoop
Ingredients:
1/2 cup peanut butter
1/2 cup butter, softened
1/2 cup white sugar
1/2 cup brown sugar
1 egg
1 teaspoon vanilla extract
3/4 cup flour
1/2 teaspoon baking soda
1/4 teaspoon baking powder
1/2 teaspoon salt
1 cup quick cooking oats
About 1/2 cup Nutella
Directions:
Preheat the oven to 350 degrees F. Line a baking sheet with parchment paper.
With an electric mixer, cream together the peanut butter, butter and both sugars. Then beat in the egg and vanilla.
In a small bowl mix together the flour, baking soda, baking powder and salt. Mix the flour mixture gradually into the peanut butter until just combined, then fold in the oats.
With a small cookie scoop, drop balls of dough onto prepared baking sheet. Flatten each dough ball with a fork to make a crisscross pattern.
Bake for 10 minutes. Remove from oven and allow to cool completely.
When cookies are completely cooled, spread the bottom of half the cookies with a spoonful of Nutella, then top with the remaining cookies to form a sandwich.
More Daily Flavor
Peanut butter caramel-topped shortbread bars
Chocolate pretzel beer toffee
Biscoff and banana grilled cheese