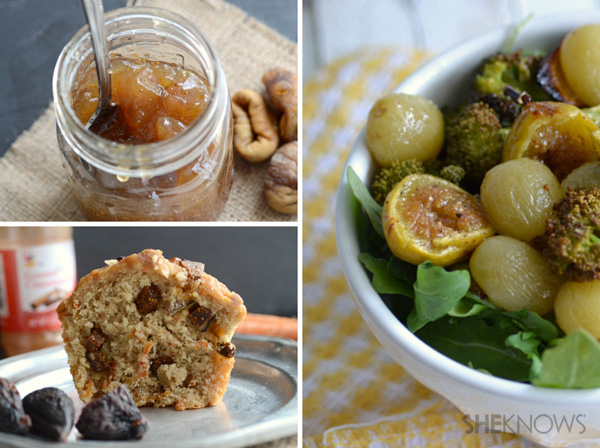 Get figgy with it!
Figs aren't only good stuffed into processed Fig Newtons. In fact, this highly misunderstood little fruit is the perfect addition to all of your favorite foods, like salads, muffins and jams.
Figs are often overlooked and underutilized, primarily because of their short season and strange appearance. But didn't your mother ever tell you not to judge a book by its cover? This sweet, slightly squishy fruit is the perfect way to add some spring and summer to your plate, even if it's still frigid outside.
Yields about 8-10 ounces
Ingredients:
1 pound fresh white figs
1/4 cup white sugar
1/4 cup brown sugar
1 teaspoon pumpkin pie spice
Juice from 1 lemon
Directions: 
Chop the figs into pieces and remove all stems. Place in a medium-size saucepan with the sugars, pumpkin pie spice and lemon juice.
Bring mixture to a boil and then reduce to low. Let jam simmer for about 30 minutes or until thick and all of the sugar has dissolved.
Immediately pour into a sterile jar. Cover and chill until ready to use.
Yields about 8 giant bakery-style muffins
Ingredients:
1 cup all-purpose flour
2 cups whole wheat flour
1 tablespoon baking powder
1/2 teaspoon baking soda
Dash of salt
1 teaspoon cinnamon
1 stick softened butter
2 tablespoons unsweetened applesauce
1 cup sugar
1/4 cup brown sugar
1 teaspoon vanilla
2 eggs
1-1/2 cups sour cream
2 cups shredded carrots
3/4 cup chopped dried figs
1/2 cup chopped walnuts
Directions:
Preheat oven to 350 degrees F. Line two giant muffin tins (like this one) with large wrappers (like these).
In a large bowl, whisk the flours, baking powder, baking soda, salt and cinnamon. In another bowl, beat the butter, sugars, applesauce, eggs and vanilla together with an electric mixer until smooth. Add the wet ingredients to the dry ingredients, mixing well. Stir in the sour cream, figs, carrots and walnuts. Batter will be thick.
Using an ice cream scoop, scoop batter into tins, filling about 3/4 full.
Bake muffins for about 20-25 minutes, or until golden.
Serves 4
Ingredients:
1 cup green grapes
1 tablespoon extra-virgin olive oil
3 cups mixed salad greens
4 figs, sliced
1-1/2 cups broccoli florets
1 medium sweet onion, sliced
2 tablespoons lemon juice
2 tablespoons extra-virgin olive oil
1 tablespoon rice vinegar
Dash of salt and pepper
1 tablespoon honey
Click here for the instructions on how to make this fresh fig salad >>
More dried fruit recipes
Dried fruit quick bread recipe
Dried fruit cheeseball recipe
Chicken salad with dried fruit and quinoa