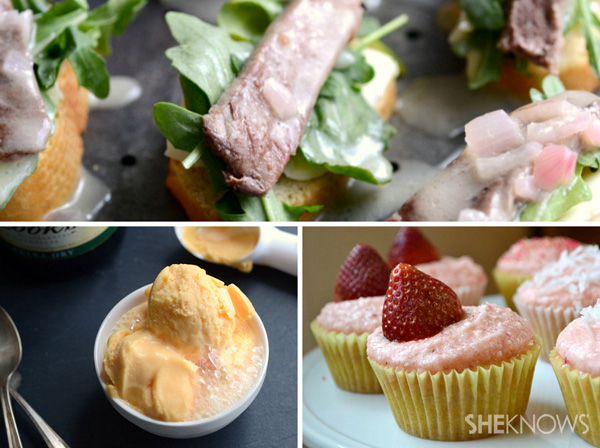 Eat Don't drink your bubbles
Pop that bubbly! But before you pour it all into a fancy flute (or directly into your mouth, we don't judge), save some for one of these perfect bridal shower recipes, made with your favorite Champagne!
These elegant, boozy appetizers and desserts make a great addition to your bridal shower or even a thank-you brunch. Because, really, what pairs better with Champagne than Champagne?
Serves 8
Ingredients:
1-1/2 tablespoons fresh orange zest
1 cup white sugar
1-3/4 cups orange juice
2/3 cup heavy cream
2 tablespoons lemon juice
1/4 cup Champagne
Directions:
Mix the orange zest and sugar together. Add orange and lemon juice and place in a blender. Pulse until smooth (about 1 minute) and until the sugar is dissolved. Using a wire mesh strainer, strain juice through (to get rid of the zest). Mix in the Champagne in batches (about 1 tablespoon at a time). Cover with plastic wrap and chill for at least an hour.
Once cold, whisk in the heavy cream until fully combined. You want a thicker mixture.
Pour the mixture into a frozen basin of an electric ice cream maker, turn it on and let churn for about 15-20 minutes. Once done, freeze for at least two hours or until set.
Scoop into a bowl and pour additional Champagne before you serve.
Yields 10 crostini
Ingredients:
For the crostini: 
10 slices French bread
1 tablespoon oil
1/2 pound skirt steak
2 cups baby arugula
5 ounces Brie cheese
For the sauce: 
1/3 cup dry Champagne
1-1/2 tablespoons lemon juice
1-1/2 tablespoons shallots
3 tablespoons butter, chopped into pieces
Salt and pepper
Directions:
Liberally coat the steak with salt and pepper on both sides. Heat a grill or grill pan over medium heat. Add steak and cook about 3-4 minutes on each side. Place on a cutting board and slice into thin slices.
To make the sauce, heat the Champagne, lemon juice and shallots in a small saucepan. Bring the mixture to a boil and reduce heat to medium. Add the butter, one piece at a time, stirring after each addition. Let sauce simmer for about 8 minutes or until thick and fragrant.
Spread 1/2 ounce of Brie cheese on each piece of French bread. Top the cheese with a large pinch of baby arugula. Top the arugula with a steak slice. Spoon about one tablespoon of sauce over each crostini.
Yields about 10 cupcakes
Ingredients: 
For the cupcakes: 
1-1/4 cups flour
1/4 teaspoon salt
1/2 teaspoon baking powder
1/2 teaspoon baking soda
1/3 cup coconut milk
1/2 cup rose Champagne
1/3 cup corn or vegetable oil
3/4 cup sugar
1 teaspoon vanilla extract
2 tablespoons orange juice
2 tablespoons freshly grated orange peel
For the frosting: 
3/4 cup Champagne
1 stick butter, softened
3 cups powdered sugar
3 tablespoons strawberry puree
1/2 teaspoon vanilla
Click here for the directions on how to make these delicious cupcakes >>
More bridal shower recipe ideas
Funfetti cake batter martini recipe
Lavender cupcakes with Earl Grey icing
Easy tea sandwiches for a party