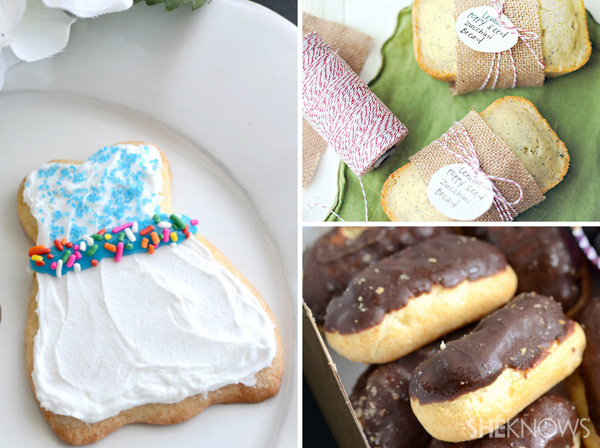 Easy favors you
can whip up
Even though they add a special personalization to your wedding day, many brides leave off favors due to cost. Cut your budget and still give your guests an edible thank you with these quick-and-easy recipes.
From sugar cookies to mini éclairs, these adorable sweets will make it hard to forget how sweet of a day your wedding was. Add fun packaging, like twine, boxes, ribbon and cellophane that matches your wedding style and colors to personalize even more.
Yields about 8 cookies
Ingredients:
1 bag sugar cookie mix
1 egg
1 stick (1/2 cup) butter, softened
White icing
Colored cookie icing
Directions:
Beat the mix, egg and butter together with an electric mixer until a soft dough forms. Place the dough in plastic wrap and chill for at least two hours.
Once chilled, preheat oven to 350 degrees F. Place the dough on a floured surface. Roll out to about 1/16-inch thickness. Dip your wedding-shape cookie cutters in flour and then cut out shapes.
Place cookies about 1-inch apart on a parchment-lined cookie sheet. Bake for about 8-10 minutes or until golden brown.
Let the cookies cool on a wire rack completely. Once cooled, decorate with white and colored icing.
Recipe adapted from Dima Sharif
Yields about 24
Ingredients:
For the filling:
10 egg yolks
1-1/2 cups milk
1-1/2 cups light cream
1/2 cup white sugar
1-1/2 teaspoons vanilla
For the chocolate glaze: 
2/3 cup unsweetened cocoa powder
1-2/3 cup white sugar
1/2 cup milk
1/2 cup + 2 tablespoons water
1 teaspoon vanilla
Directions: 
Mix the custard filling together by mixing the egg yolks, sugar, milk, cream and vanilla in a medium saucepan over medium-high heat. Cook until mixture is thick (coats the back of a spoon).
Place the custard in a large frozen metal bowl (to stop the cooking). Stir until nice and thick, like a pudding.
Poke a hole into the center of the shells going about 2/3 of the way through the shell. Fill a piping bag with custard and pipe custard inside the shells.
Mix the cocoa powder, sugar, milk, water and vanilla in a medium saucepan. Bring mixture to a boil and then remove from heat. Dip the tops of the éclairs into the chocolate glaze. Place the éclairs on a plate and freeze for about an hour. Before serving, defrost.
Photo and recipe by Kelly Hunt
Yields 4 mini loaves
Ingredients: 
8 tablespoons unsalted butter
1 cup sugar
3 large eggs
1-1/2 cups all-purpose flour
Dash of salt
1/8 teaspoon baking soda
1/2 cup Greek yogurt (or sour cream)
1 cup shredded zucchini
1 tablespoon lemon zest
2 teaspoons poppy seeds
Directions: 
Preheat oven to 325 degrees F. Grease 4 mini loaf pans with nonstick cooking spray. With an electric mixer, beat butter at a low speed until creamy. Add sugar and eggs and beat until fluffy.
In a separate bowl, stir together flour, salt and baking soda. Add to butter mixture alternately with yogurt, beginning and ending with flour mixture.
Using a wooden spoon, fold in the shredded zucchini, lemon zest and poppy seeds. Pour batter into prepared pans, filling about 3/4 of the way full.
Bake for 45 minutes or until a toothpick inserted in the center comes out clean. Cool loaves for about 10 minutes, then carefully remove from pans. Finish cooling on a wire rack.
More wedding favor ideas
DIY wedding favors
DIY Gluten-free wedding favors
7 ingredient or less edible wedding favors