Sinfully sweet
Classic shortbread gets a delicious makeover when it's topped with a creamy peanut butter caramel sauce.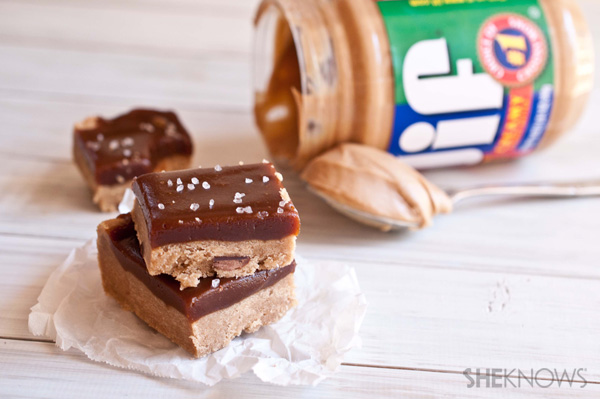 Take our advice. When you indulge in this decadent salty and sweet dessert, you'd better have a glass of milk ready!
Peanut butter caramel-topped shortbread bars recipe
Ingredients:
For the shortbread:
3/4 cup brown sugar
1 stick butter, room temperature
1/2 cup creamy peanut butter
1 teaspoon vanilla extract
1 teaspoon salt
2 cups flour
1 teaspoon baking powder
1-1/2 cups dark chocolate chips
For the peanut butter caramel:
1/2 cup heavy cream
1/2 teaspoon vanilla
1/4 cup creamy peanut butter
1/2 cup sugar
1/3 cup light corn syrup
1 stick butter
1/2 teaspoon coarse sea salt
Directions:
For the shortbread:
Line an 11 x 7-inch baking pan with parchment paper, allowing the paper to go up and over the edges of the pan.
In the bowl of a stand mixer, beat together the butter and sugar. Add the peanut butter and vanilla. Beat on high until well combined. In a separate bowl combine flour, salt, and baking powder. Add the flour mixture to the peanut butter mixture and beat on medium speed until mixed well, scraping the bottom of the bowl occasionally. Gently fold in the chocolate chips.
Press the dough evenly into the baking dish. Chill in the refrigerator for 30 minutes. Preheat the oven to 350 degrees F. Bake for 25 minutes or until the edges have turned golden brown and look dry. Remove from oven and chill in the fridge for 10-15 minutes.
For the peanut butter caramel:
In a pot over medium-high heat, combine the peanut butter and the cream. Stir until the peanut butter has melted and is well combined with the cream. Remove from heat. Stir in the vanilla and set aside.
In a separate pot over medium-high heat, combine the sugar and corn syrup. Stir until the sugar has dissolved. Bring to a boil. While the caramel is cooking, swirl the pan every 30 seconds but do not stir. When the mixture reaches 230 degrees F on a candy thermometer (about 5 minutes), stir in the butter. When melted, remove from heat. Slowly stir in the peanut butter cream mixture. Be careful — mixture will bubble.
Pour the peanut butter caramel over the chilled shortbread and sprinkle the top with the sea salt. Refrigerate for 4 hours or until set.
Lift parchment paper out of pan and cut shortbread into squares.
More Daily Flavor
Chocolate pretzel beer toffee
Salted turtle cookies
Nutella and cherry pizza