Beer-infused bites
Give your bird a beer bath for a delicious take on barbecue chicken sliders.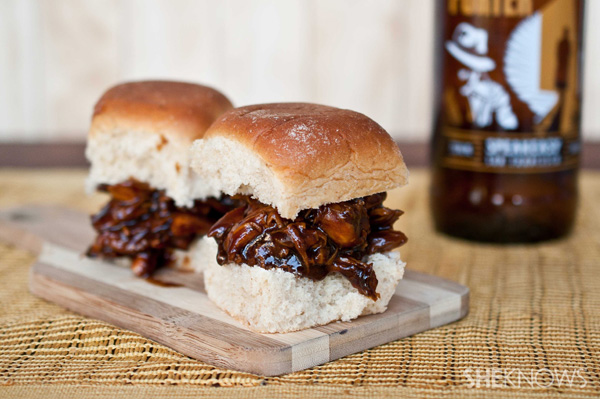 Not only does beer lend amazing flavor to dishes, it also acts as a meat tenderizer. This beer-braised chicken is so tender — a perfect match for the accompanying hoisin beer barbecue sauce.
Beer braised chicken sliders with hoisin beer barbecue sauce recipe
Yields 15
Ingredients:
For the barbecue sauce: 
2 tablespoons olive oil
3 cloves fresh garlic, minced
1 cup hoisin sauce
1 teaspoon chili powder
1/4 cup low-sodium soy sauce
1 cup beer (we recommend a dark beer, like a porter)
For the chicken: 
2 tablespoons canola oil
3 boneless, skinless chicken breasts
1/2 teaspoon salt
1-1/2 cups beer (we recommend a dark beer, like a porter)
1/2 cup chicken broth
15 small Hawaiian bread rolls
Directions:
For the barbecue sauce:
In a large saucepan over medium-high heat, heat olive oil. Add garlic and cook for 30 seconds. Add remaining ingredients and stir to combine.
Cook for 10-15 minutes or until thickened and reduced. Remove from heat. Reserve.
For the chicken:
In a large Dutch oven, heat 2 tablespoons canola oil on high. Sprinkle both sides of the chicken breasts with salt. Place chicken in the pot and cook on each side until browned, about 2 minutes per side.
Pour in beer and chicken broth. Cover, reduce heat to medium and cook for 15–20 minutes or until chicken is completely cooked.
When chicken is cooked, remove from pot and allow to cool. Using two forks, shred chicken, then add to barbecue sauce. Toss well to coat.
To assemble:
Split rolls in half and fill with prepared chicken.
More Daily Flavor
Jalapeño pale ale cornbread
Pizza-stuffed pretzel rolls
BLT caprese sliders on puff pastry buns