Special occasion breakfast
Some mornings call for an extravagant breakfast and crabcake eggs Benedict with bacon hollandaise sauce fits the bill perfectly!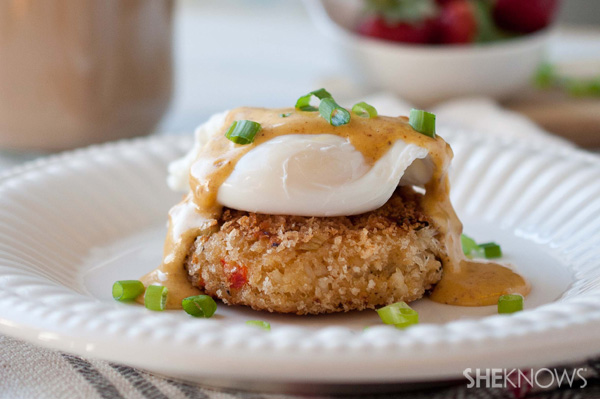 Whether you're hosting a gourmet brunch or just want to impress your family on Sunday morning, this fancied up eggs Benedict is worth the effort.
Crabcake eggs Benedict with bacon hollandaise sauce recipe
Ingredients:
For the crabcakes: 
8 ounces lump crabmeat
1 egg
2 tablespoons green onions, chopped
1/4 cup roasted red pepper, chopped
1 tablespoon melted butter
2 cups panko breadcrumbs, divided use
Pinch cayenne pepper
1/4 teaspoon Old Bay seasoning
1/4 teaspoon salt
1/2 teaspoon pepper
For the hollandaise sauce: 
4 strips bacon
4 egg yolks
4 tablespoons butter
2 tablespoons lemon juice
Pinch cayenne pepper
For the eggs:
Directions:
In a large bowl, combine all the crabcake ingredients (reserving 1 cup of panko breadcrumbs for the coating). Form into 4 patties, about 1-inch thick. Add remaining panko to a shallow dish. Place the crabcakes in the panko and press to coat both sides well. Place coated crabcakes on a plate in a single layer and refrigerate until ready to use.
In a pan over medium-high heat, cook the bacon until crisp. Remove and set aside. Add the crabcakes to the pan with bacon grease, cooking until golden brown, then flip carefully and cook the other side, about 3 minutes per side. Remove from heat.
In a food processor, add the bacon and process until only small crumbs remain. Add the egg yolks and process for about 3 minutes. Melt butter. While butter is still hot, slowly add to the food processor while running until well combined with the yolks. Add the lemon juice and the cayenne pepper, process until combined. If the sauce is too thick, add a small amount of water to thin it, one teaspoon at a time. Reserve.
Poach the eggs in simmering water. (Check out this tutorial on how to poach an egg.)
Serve crabcakes topped with a poached egg, then spoon sauce over the top.
More Daily Flavor
Apple ring pancakes
Breakfast skillet with chorizo and eggs
Quinoa carrot cake breakfast muffins