Jazz up the other
white meat
Make pork the star of the show with a beer-citrus marinade and spicy peach salsa.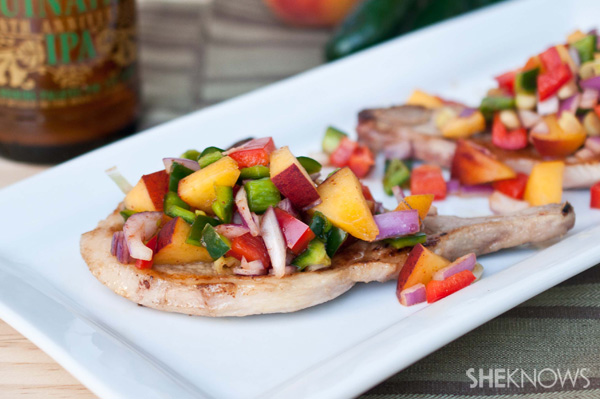 These easy pork chops cook in minutes and are full of flavor. With a quick marinade and healthy salsa topping, this is a delicious meal you have time for even on a weeknight.
Beer marinated pork chops with peach salsa recipe
Serves 4
Ingredients:
For the pork chops:
1 cup beer (like pale ale or IPA)
1/4 cup fresh-squeezed lemon juice
1 teaspoon salt
3 cloves garlic, minced
1 teaspoon agave syrup or nectar
1/2 teaspoon Sriracha sauce
4 bone-in pork chops (1 to 1-1/2 inches thick)
3 tablespoons olive oil (plus additional if needed)
For the salsa:
1 cup chopped fresh peach
1 cup chopped red bell pepper
2/3 cup chopped poblano pepper
2/3 cup chopped red onion
1/4 cup chopped green onion
1/2 teaspoon salt
2 tablespoons beer (like pale ale or IPA)
1/4 teaspoon chili powder
Directions: 
For the salsa:
In a medium bowl, combine all of the salsa ingredients. Toss to combine. Refrigerate until needed.
For the pork chops:
In a large bowl, combine the beer, lemon juice, salt, agave syrup, garlic and Sriracha. Stir to combine. Add the pork chops, turning to coat. Marinate for about 30 minutes in the refrigerator.
In a large pan over medium-high heat, add the olive oil. When pan is hot, add the pork chops two at a time, making sure you don't crowd the pan. Cook each side for 3-4 minutes. Repeat with remaining pork chops, adding more oil to the pan as needed.
Serve pork chops topped with salsa.
More Daily Flavor
Spicy grilled skirt steak with Thai red chili sauce
Chorizo and potato soft tacos with homemade salsa
Thai chicken with fresh basil