A No-Bake Chocolate Chip Treat
Ever found yourself eating all of the cookie dough when making cookies? Here, we share a recipe for no-bake chocolate chip cookie dough bites that tastes exactly like raw cookie dough. What's great about this version is that it is egg free, keeping it safe for kids big and small.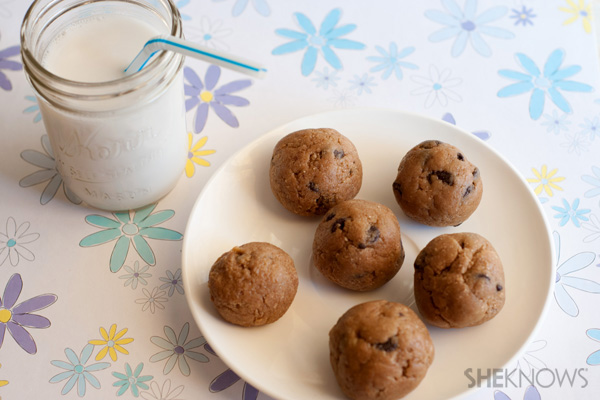 Everyone loves a good chocolate chip cookie, but sometimes we don't like heating up the kitchen to make them. In this recipe, we have crammed all of the chocolate chip cookie flavors into a bite-sized cookie ball that doesn't need baking! Since these bites are eggless, you don't have to worry about possible salmonella contamination from raw eggs.
No-bake chocolate chip cookie dough bites recipe
Inspired by the picky palate
Yields 18-20 bites
Ingredients:
1 stick (or 8 tablespoons) unsalted softened butter
1/2 cup white sugar
1/2 cup packed light brown sugar
1 teaspoon pure vanilla extract
1 cup all-purpose flour
1/4 teaspoon sea salt
3/4 cup mini chocolate chips (you can also use regular)
Directions:
In a mixing bowl add the white and brown sugar and the butter. Beat the mixture on high until smooth and creamy, about 2 minutes. Add in the vanilla, salt, chocolate chips and the flour, making sure the ingredients are well combined.
With a cookie scoop or spoon, scoop out the dough and begin rolling into bite-sized balls trying to keep each the same size. Place the balls on a platter and serve at room temperature. Store leftovers in the refrigerator.
Note
Since these bites do not contain eggs no need to worry about them sitting out on the counter.
More no bake recipes
No bake granola
No-bake hummus pizza
No-bake mini brownie batter cheesecakes