Perfect for Passover
Need a hearty Passover dish that doesn't call for grains? We recommend this delicious roasted mushroom quinoa risotto — no chametz here.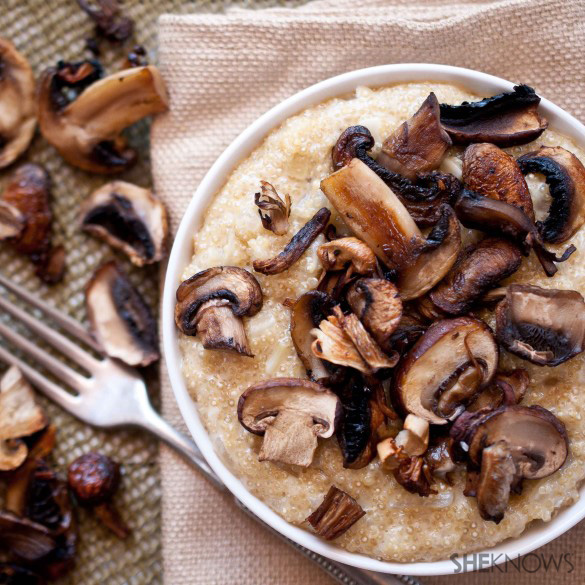 Since leavened foods (chametz) are forbidden during Passover, quinoa is the perfect ingredient choice. Quinoa, which is actually a seed, has grain-like properties that give any dish substance and texture, especially when prepared as a classic risotto.
Roasted mushroom quinoa risotto recipe
Serves 4
Ingredients:
2 cups chopped assorted mushrooms (such as shiitake, cremini, oyster)
1 tablespoon olive oil
2 cups vegetable broth
3 tablespoons unsalted butter
1 tablespoon chopped shallots
3 cloves garlic, minced
1 cup quinoa, rinsed and dried
1/4 cup dry white wine
1/4 cup grated Parmesan cheese
1/4 cup heavy cream
Salt
Pepper
Directions:
Preheat oven to 400 degrees F.
Place mushrooms on a baking sheet and drizzle with olive oil. Toss to coat. Roast until the mushrooms have turned dark and are cooked through, about 10-15 minutes. Reserve.
In a small saucepan, bring the vegetable broth to a mild simmer.
In a separate pot, toast the dry quinoa over medium heat, stirring constantly, until you can smell a nutty aroma, about 3 minutes. Remove quinoa from the pot. Reserve.
Add the butter to the pot and melt over medium heat. Add the shallots and cook until tender but not brown. Add the garlic and cook for about 20 seconds. Stir in the toasted quinoa, stirring until it is completely coated with butter, about 2 minutes. Do not brown. Add the wine and cook until the pot starts to get dry, stirring frequently, about 4 minutes.
Add about 1/3 of the broth into the quinoa mixture. Stir frequently until the pot is almost dry. Repeat until the quinoa is cooked through. This process should take about 15-20 minutes. Don't leave the risotto unattended as the quinoa on the bottom of the pot burns easily. If you run out of broth before the quinoa is cooked through, use hot water.
Once your risotto is cooked through, turn heat to low and add the cheese and cream. Season with salt and pepper, to taste. Stir in the roasted mushrooms just before serving.
More Daily Flavor
Butternut squash and roasted garlic bisque
Arugula and quinoa salad
Avocado Alfredo pasta with spicy shrimp