Beer for breakfast
You might not drink a pint of beer first thing in the morning, but these beer-infused waffles and caramel sauce are a good reason to pop open a bottle before noon.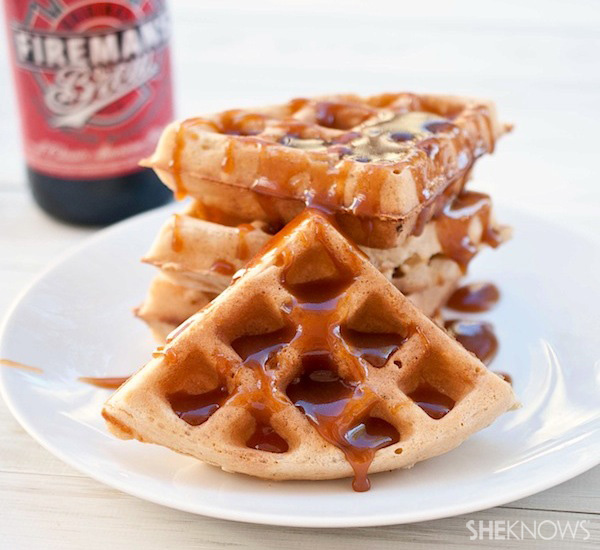 Why not have beer for breakfast? These pilsner waffles topped with amber ale caramel sauce make a morning brew completely acceptable.
Pilsner waffles with amber ale caramel sauce recipe
Makes 4-6 waffles, depending on size of waffle iron
Ingredients:
For the caramel sauce:
12 ounces amber ale
2 cups brown sugar, packed
3/4 cup heavy cream
1 teaspoon vanilla
2 tablespoons butter
For the waffles:
2 cups flour
1/2 teaspoon salt
1 teaspoon baking powder
1 stick butter, melted
1 egg
2 tablespoons flour
1/4 cup milk
12 ounces pilsner (or similar lager)
Directions:
For the caramel sauce:
In a pot over high heat, add the beer and bring to a boil, reducing to about 1 cup. Remove from heat and add the brown sugar. Stir until dissolved.
Clip a thermometer to the side of your pot, submerging the tip in the liquid but making sure it does not hit the bottom of the pan. Return the mixture to a boil, swirling the pan occasionally (do not stir), until the temperature reaches 230 degrees F. Remove from heat and stir until the bubbling subsides.
Add the cream, vanilla and butter. Stir to combine. Allow to cool.
For the waffles:
In a large bowl, combine the flour, salt and baking powder. In another bowl, combine the butter, milk and egg, whisking until light and frothy. Add the wet ingredients into the dry ingredients. Stir to combine. Add the pilsner and stir until just combined. There will be a few lumps.
Heat your waffle iron according to manufacturer directions. Pour batter into waffle iron and cook until golden brown. Time will vary depending on waffle iron.
Serve waffles topped with caramel sauce.
More Daily Flavor
Apple ring pancakes
Breakfast skillet with chorizo and eggs
Quinoa carrot cake breakfast muffins