Bite-size is better
Food is just more fun when it's bite-size, isn't it? Everyone will love these BLT sliders with an Italian twist.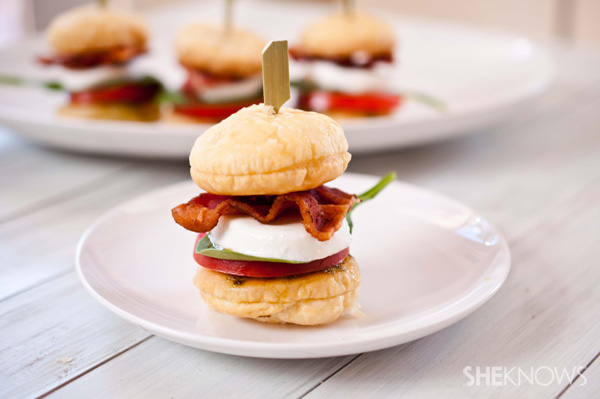 Combine a classic BLT sandwich with an Italian caprese salad for a perfect bite on light and airy puff pastry buns. We bet you won't be able to eat just one!
BLT caprese sliders on puff pastry buns recipe
Yields 20
Ingredients:
2 sheets puff pastry, thawed
3 tablespoons butter, melted
1/2 teaspoon salt
5-6 Roma tomatoes
2 tablespoons pesto sauce
20 spinach leaves
4 balls fresh mozzarella (we used bocconcini)
10 slices of bacon, cooked and cut in half
Flour
Directions:
Preheat oven to 350 degrees F. Line a baking sheet with parchment paper.
On a lightly floured surface, roll out one sheet of puff pastry to approximately 14-1/2 inches by 16-1/2 inches. Using a 3-inch biscuit cutter, cut out 20 circles. Repeat for the second puff pastry sheet.
Brush each puff pastry circle with butter and sprinkle lightly with salt. Transfer the circles to the baking sheet, butter side up. (You may need to bake in batches.)
Bake for 16-19 minutes or until golden brown. Remove from oven and let cool.
While the puff pastry is baking, cut each mozzarella ball into 5 slices. Cut the ends off the tomatoes and cut into 20 1/4-inch slices.
Once the puff pastry has cooled, assemble the sliders. Take one puff pastry round and spread it with about 1/4 teaspoon of pesto sauce. Top with a tomato slice, then a spinach leaf, then mozzarella slice, then slice of bacon and top the entire thing with another puff pastry round. Secure with a skewer, if desired. Repeat for remaining sliders.
Serve immediately.
More Daily Flavor
Jalapeño bacon dip
Bite-size spinach dip cups
Pizza-stuffed pretzel rolls