A healthy start
to your day
Skip the sugary cereals and eat a healthy quinoa carrot cake muffin for breakfast. They're perfect for on-the-go meals.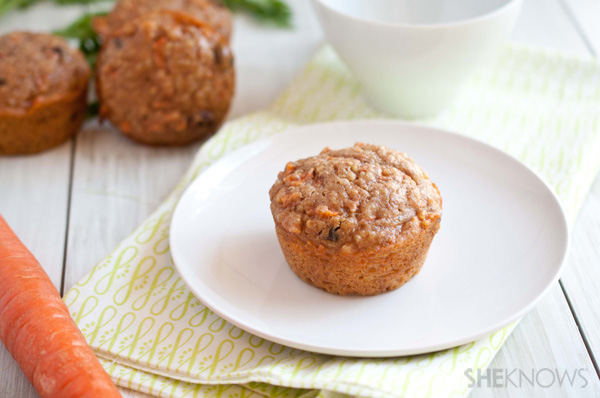 Quinoa is making its way into every meal and now we've got breakfast covered. This time it's baked into a deliciously healthy carrot cake muffin that will fill you up and help you start your day off right.
Quinoa carrot cake breakfast muffin recipe
Yields 6
Ingredients:
1/2 cup whole wheat flour
1/2 cup cooked quinoa
1/3 cup sugar
1 teaspoon cinnamon
1/4 teaspoon nutmeg
1 teaspoon baking powder
1/2 cup fat-free sour cream
1/4 cup unsweetened applesauce
2 tablespoons honey
1 teaspoon vanilla extract
1 egg
3/4 cup finely grated carrots
1/4 cup raisins
2 tablespoons chopped walnuts
Directions: 
Preheat oven to 350 degrees F. Remove excess water from grated carrots by pressing them between 2 paper towels to drain.
In a large bowl, combine the flour, quinoa, sugar, cinnamon, nutmeg and baking powder.
In another bowl, combine the sour cream, applesauce, honey, egg and vanilla until smooth. Pour the wet ingredients into the dry ingredients. Stir until just combined. Add the carrots, raisins and walnuts and stir until just combined.
Grease 6 wells of a muffin tin (or line with muffin papers). Pour the batter evenly into the wells, about 2/3 full.
Bake for 18-22 minutes or until the top springs back when touched.
More Daily Flavor
Apple ring pancakes
Breakfast skillet with chorizo and eggs
Glazed lemon poppy seed muffins