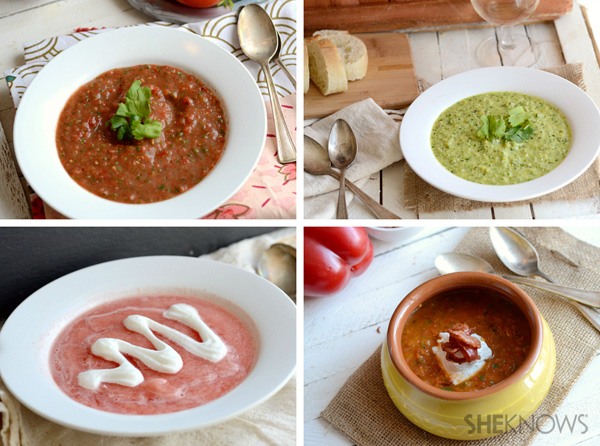 Fruity and savory soups for Easter dinner
If you've never had gazpacho, brace yourself for your newest spring obsession. These chilled sweet or savory soups make the perfect first course for your Easter brunch, spring dinner party or date night in!
You can't beat one of these delicious gazpachos on a warm spring or summer day. Not only are these soups gorgeous, they are light and healthy, too.
Recipe adapted from My Recipes
Serves 4
Ingredients:
2 pounds tomatoes, chopped
2 cloves garlic, chopped
1 tablespoon lemon juice
1-1/2 tablespoons balsamic vinegar
1-1/2 tablespoons olive oil
2/3 cup chopped onions
1/2 cup chopped yellow or red peppers
1/2 cup cilantro
Salt and pepper
Directions:
Heat oil on a grill pan and add onions, garlic and peppers. Add garlic, tomatoes, vinegar, olive oil, cilantro, salt and pepper and grilled peppers to a food processor. Pulse until smooth (with a texture like salsa).
Chill and serve with sour cream or chips.
Serves about 4
Ingredients:
1 pound asparagus, trimmed
1/3 cup fresh cilantro
3 cloves garlic
1/2 medium onion, sliced
1/2 large green pepper, chopped
1/3 cup shredded Parmesan cheese
2-1/2 tablespoons extra-virgin olive oil
2 tablespoons lemon juice
1/4 cup dry white wine
1/4 cup cold water
Salt and pepper
Directions: 
Preheat oven to 400 degrees F. Add asparagus, garlic, onions, green pepper and salt and pepper. Roast for about 20-25 minutes or until vegetables are soft.
Add vegetables, water, lemon juice, olive oil and wine to a blender or food processor. Pulse on low or until mixture is creamy. Chill before serving.
Serves about 2
Ingredients: 
2 cups chopped watermelon
1 small tomato chopped
2 tablespoons mint
2 teaspoons lime juice
2 tablespoons light cream
Whipped cream as garnish
Ingredients:
Blend the watermelon, chopped tomato, mint until smooth (like puree). Stir in lime juice, light cream and a dash of salt.
Serve with a garnish of whipped cream.
Serves 4
Ingredients:
1 red bell pepper
1 orange bell pepper
1 yellow pepper
1 large tomato, diced
1/4 cup fresh basil
1/2 jalapeño pepper, chopped and seeded
1-1/4 cups tomato juice
2-1/2 tablespoons sun-dried tomato pesto
Salt and pepper
4 teaspoons sour cream
4 tablespoons crispy prosciutto
Directions: 
Preheat oven to 400 degrees F. Add peppers, olive oil and salt and pepper to a glass baking dish. Roast for about 20 minutes or until soft. Place vegetables in a food processor and add tomato, basil, tomato juice, olive oil and salt and pepper.
Top each bowl with one teaspoon of cream cream and one teaspoon crispy prosciutto.
More soup recipes
Spring pea and mint soup
Spring vegetable soup recipe
Spring chicken chowder with asparagus and peas