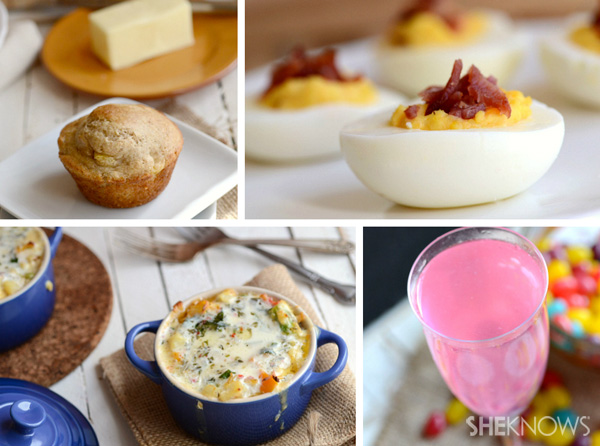 the Perfect menu for
a spring garden party
What is more elegant or beautiful than a springtime garden party? Simulate a stunning fit-for-a-queen garden party brunch this Easter with this delicious brunch menu. All that's missing are the fancy hats and floral frocks!
If the weather isn't ideal where you are, take the garden party inside by placing a few vases of fresh blooms (like colored roses) on your brunch table. Then serve up this spring-inspired menu for a sophisticated brunch everyone will rave about.
Yields 12
Ingredients:
1-1/2 cups whole wheat flour
1/2 cup all-purpose flour
1/3 cup brown sugar
1/3 cup white sugar
2 teaspoons baking powder
Dash of salt
1/2 teaspoon baking soda
1/2 teaspoon cinnamon
1 cup chopped fresh mango
3/4 cup low-fat milk
1/4 cup applesauce
1 egg
1 teaspoon vanilla
Directions:
Preheat oven to 400 degrees F. In a large bowl, whisk the flours, sugars, baking soda, cinnamon and salt together. In another bowl, mix the milk, applesauce, egg, vanilla and mango. Pour wet mixture into the dry mixture and stir to combine.
Line a muffin tin with cupcake liners. Fill each cavity about 3/4 full with muffin batter. Bake for 12 minutes or until golden brown and a toothpick inserted in the middle comes out clean.
Recipe adapted from Food Network
Serves 12
Ingredients:
6 hard-boiled eggs, shells removed
1/4 cup mayonnaise
1/2 tablespoon mustard
3 pieces bacon, cooked and crumbled
2 tablespoons shredded cheddar cheese
Salt and pepper
Directions:
Cut each peeled egg in half and carefully remove the yolk. Place yolks in a bowl. Add the mayonnaise, mustard, salt and pepper and cheddar cheese. Stir to combine.
Scoop about one teaspoon or so of filling into each egg half. Sprinkle with bacon bits and enjoy!
Yields 6 individual servings (about 1 cup serving size)
Ingredients:
2 cups frozen hash browns (diced, not shredded)*
1/2 large onion, chopped
1/2 medium orange pepper, chopped
6 stalks asparagus, chopped with stems removed
2 tablespoons butter
3/4 cup frozen peas
About 5 ounces soft goat cheese
2 tablespoons milk
1/2 cup shredded white cheddar cheese (about 2 ounces)
6 tablespoons fresh mozzarella
Fresh basil, chopped
Salt and pepper to taste
*Sub in fresh potatoes if you'd like, just boil slightly to soften and add the skillet.
Directions:
Grease 6 cocottes with nonstick cooking spray (or ramekins). Preheat oven to 350 degrees F.
Heat butter in a large skillet over medium heat. Add onions, pepper and asparagus. Cook until soft, about 4 minutes. Add frozen hash browns and peas and cook until softened, about 4 minutes. Remove from heat and stir in milk, cheddar cheese and goat cheese. Stir to coat. Add salt and pepper to taste.
Pour mixture into the prepared dishes. Top with one tablespoon mozzarella cheese and fresh basil. Bake for about 10-12 minutes or until cheese is melted and mixture has thickened.
Serves 4
Ingredients:
1/4 cup pink jelly beans
1/2 cup vodka
12 ounces prosecco
2 tablespoons fresh-squeezed lemon juice (1 ounce)
Directions:
To infuse the vodka, place 1/4 cup jelly beans (we used pink) in a Mason jar. Top with vodka and screw on lid. Shake vigorously. Let sit for about 2 days, shaking every few hours. Then strain through a wire mesh strainer or cheesecloth to remove the excess sugar from the jelly beans.
Pour one ounce of vodka into Champagne flutes. Top with 3 ounces of prosecco and 1/2 tablespoon of lemon juice.
More elegant brunch recipes
Artichoke quiche recipe
Bacon and egg toast cups recipe
Easy but elegant Easter brunch menu