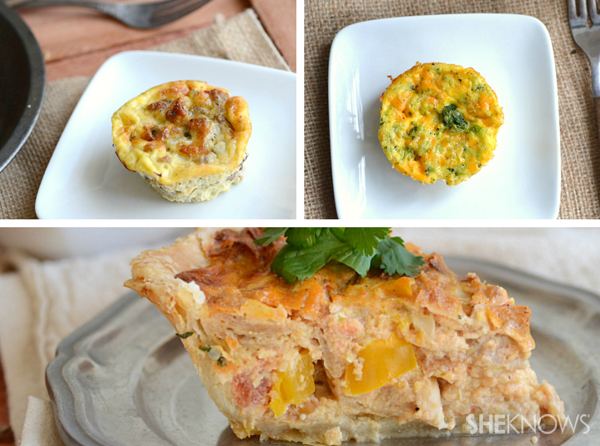 Add some variety
to your eggs
Quiches are the quintessential Easter brunch food. Typically mixed with spinach and bacon, these elegant egg dishes are popular with all ages. Add some variety to your brunch eggs with these unique recipes!
These quiches are filled with decadent fillings like pork sausage, Swiss cheese, crawfish tails and even Mexican seasoned chicken. Even your pickiest eaters (and snobbiest friends) will gobble these quiches right up during your Easter brunch.
Recipe adapted from Betty Crocker
Serves about 10
Ingredients:
For the crust:
2 cups all-purpose flour
2/3 cup (about 11 tablespoons) cold butter
6 tablespoons ice water
Salt
For the quiche: 
4 eggs
1 cup milk
1 cup cooked rotisserie chicken, chopped
1 cup broken tortilla chips
3/4 cup salsa
1/4 cup chopped fresh tomatoes
2 cups shredded cheddar cheese
1/2 cup soft goat cheese
1/2 cup shredded mozzarella cheese
1 tablespoon olive oil
1 medium yellow pepper, chopped
1/2 large onion, chopped
1/4 cup chopped fresh cilantro
Salt and pepper
Directions:
To make the crust: Mix the flour and salt together. Then, using a pastry knife or cutter, cut the butter into the flour until mixture resembles coarse sand. Using your hands, knead dough slightly and form into a disc. Cover disc with plastic wrap and chill for at least an hour.
Once chilled, place on a floured surface and roll out to about 1/4-inch thickness. Move crust to a greased pie plate and press into the bottom and up the sides. Save remaining crust for later.
Preheat oven to 350 degrees F. Heat oil in a skillet over medium heat. Add onions and peppers, cook until soft, about 5 minutes. Remove from heat.
In a large bowl, whisk the eggs, cheeses and milk together. Add chicken, tortilla chips, peppers, onions, cilantro, salsa, fresh tomatoes and salt and pepper; stir to combine. Pour mixture into the crust, filling to the top (but not overflowing the crust).
Bake for about 55-60 minutes, or until set. Serve immediately and garnish with fresh cilantro or sour cream.
Serves about 4
Ingredients:
6 eggs
1/2 cup half-and-half
1 tablespoon butter
8 ounces chopped mushrooms
1/2 medium onion, chopped
3/4 cup shredded Swiss cheese
Salt and pepper to taste
Directions:
Mix the eggs, half-and-half and cheese together in a bowl with a whisk. Add salt and pepper to taste. Preheat oven to 375 degrees F.
Heat butter in a pan over medium heat. Add onions and mushrooms. Cook until soft and fragrant, about 3-4 minutes. Whisk onion mixture into egg mixture.
Pour into greased muffin cavities. Bake for about 20-25 minutes, or until set and golden brown.
Yields about 8 quiches
Ingredients:
2 cups milk (we used 2%)
2 cups heavy cream
4 cups broccoli florets, chopped and steamed
4 eggs plus 4 egg yolks
1-1/2 cups buffalo wing-flavored cheddar cheese (we used this kind)
1/2 cup grated white cheddar cheese
Salt and pepper to taste
Pie crust (optional)
Directions: 
Preheat your oven to 350 degrees F. Liberally grease a muffin tin with nonstick cooking spray. If you want to have crust for your quiches, place pieces of the pie crust into the muffin tins making sure you press the dough all the way up the sides of the each cavity.
In a bowl, whisk together the eggs, egg yolks, cream, milk, salt and pepper and buffalo cheese with a whisk. Add the broccoli a cup at a time and stir after each addition.
Using a spoon or a small ladle, pour the egg mixture into the prepared cavities, until about 2/3 - 3/4 full. Top each quiche with a bit of white cheddar cheese, salt and freshly ground pepper.
Bake for about 25 minutes, or until solid. Let cool in the cavities for about 5 minutes then remove and enjoy!
More Easter brunch recipes
A Full Easter Sunday brunch menu
Break away from Eggs: Tasty Easter treats
3 Easy Easter morning meal ideas