Spice it up!
Kick classic cornbread up a notch by adding spicy jalapeños and boldly flavored beer. You'll never want to make your old boring recipe again!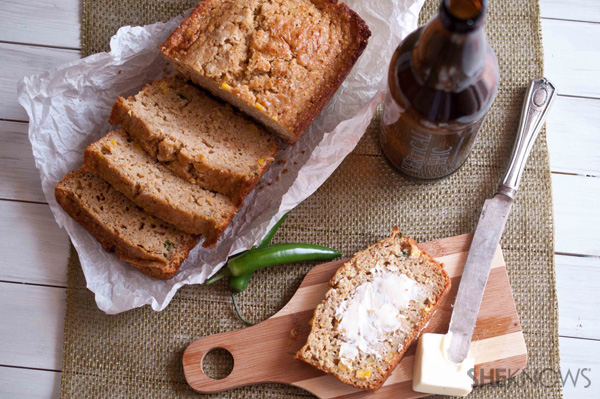 Nothing complements a bowl of chili better than a piece of warm cornbread. This spiced up recipe is sure to become your new favorite.
Jalapeño pale ale cornbread recipe
Ingredients:
5 tablespoons unsalted butter, divided use
1 tablespoon chopped fresh jalapeños
3/4 cup whole milk
3/4 cup dry polenta (coarse cornmeal)
3/4 cup flour
2 teaspoons baking powder
1/2 teaspoon baking soda
1/2 cup brown sugar
1/2 teaspoon salt
2 eggs
1 tablespoon honey
3/4 cup pale ale
1 cup fresh corn kernels (if using frozen, thaw)
Butter-flavor cooking spray
Directions:
Preheat oven to 350 degrees F.
Spray a large, deep-dish loaf pan generously with butter-flavor cooking spray.
In a saucepan over medium heat, add 3 tablespoons of butter and the jalapeños. Cook until the jalapeños are starting to soften, about 3 minutes.
Add the milk and polenta and stir until the milk starts to bubble and is well combined with the polenta. Cover and remove from heat. Allow mixture to rest for about 20 minutes.
In a separate bowl, whisk together the flour, baking soda, baking powder, sugar and salt.
In another bowl, whisk the eggs and the honey until well combined.
Add the egg mixture to the polenta pan and stir. Add the dry ingredients and stir until incorporated. Add the beer and the corn kernels, stirring until just combined.
Melt the remaining 2 tablespoons of butter. Add cornbread mixture to the prepared baking dish and pour the butter over the top.
Bake until a skewer inserted in the middle comes out clean, about 45-55 minutes.
More Daily Flavor
Lemon beer loaf cake
Pumpkin muffins
Pizza-stuffed pretzel rolls