An apple a day…
Pancakes just got healthier! These fruity pancakes have apple slices cooked inside for a fun twist on a classic breakfast food.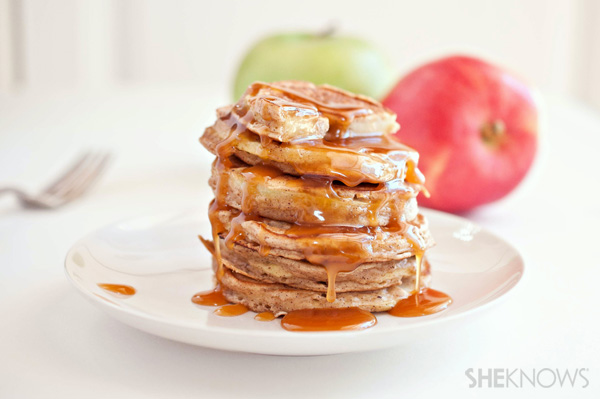 Change things up the next time you make pancakes by dipping sliced apples into the batter. It's an easy way to sneak some extra fruit into your family's diet!
Apple ring pancakes recipe
Yields about 20, depending on size of apples
Ingredients:
2-3 large apples
1 cup flour
1/4 cup brown sugar
1 teaspoon baking powder
1/4 teaspoon nutmeg
1 teaspoon cinnamon
1/4 teaspoon salt
1/4 cup reduced-fat sour cream
1 egg
1/2 teaspoon vanilla extract
3/4 cup club soda
Butter-flavored cooking spray
Directions:
Peel and core the apples. Cut the apples into 1/4 to 1/2-inch slices, depending on desired doneness. The thinner the apple slice, the more cooked the apple will be.
In a large bowl combine the flour, brown sugar, baking powder, nutmeg, cinnamon and salt until well mixed. In a separate bowl combine the sour cream, egg and vanilla. Mix until well combined. Add the wet ingredients to the dry and stir until just barely combined. Add the club soda and stir gently.
Preheat a griddle to 375 degrees F or heat a large skillet. Coat the cooking surface with butter-flavored cooking spray.
One at a time, dip the apple slices into the batter and place on the hot griddle. Allow the pancakes to cook until the edges start to look dry and then flip over, cooking on the other side until golden brown, about 3 minutes per side. Repeat for all apple slices.
Serve with maple syrup, if desired.
More Daily Flavor
Pink berry smoothie
Ham, cheese and onion quiche
Glazed lemon poppy seed muffins