One-pot wonder
Serve the whole family with this breakfast skillet full of eggs, potatoes and spicy chorizo. It's the perfect Sunday morning meal.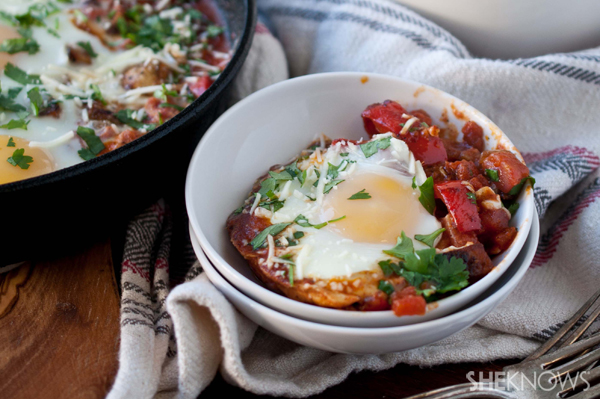 One-pot meals make breakfast quick and easy. With this hearty breakfast skillet, you can spend your morning with the family instead of slaving away in the kitchen!
Breakfast skillet with chorizo and eggs recipe
Serves 4
Ingredients:
2 tablespoons olive oil
1 cup peeled and diced red potatoes
1/2 teaspoon salt
1/2 teaspoon pepper
1 large shallot, chopped
1 bell pepper, julienned
6 ounces chorizo sausage, removed from casing
1/2 cup pale ale beer
1 (14 ounce) can crushed stewed tomatoes
4 eggs
1/4 cup grated Parmesan cheese
1 large avocado, sliced
1/4 cup roughly chopped cilantro
Directions:
Preheat oven to 350 degrees F.
In a cast-iron skillet, heat the olive oil. Sprinkle the potatoes with salt and pepper, cook over medium-high heat until potatoes are fork tender. Remove potatoes from skillet.
Return skillet to heat. Add extra olive oil if the pan is dry and cook the shallots and bell peppers until soft. Add the chorizo, breaking it up while cooking. Once the chorizo is mostly cooked, add the beer. Scrape to deglaze the pan.
Add the tomatoes and juices to the skillet and cook until slightly reduced, about 5 minutes. Return potatoes to the pan.
Crack the eggs on the skillet, spaced evenly apart.
Transfer skillet to the oven and cook until the egg whites have set, about 10 minutes.
Top with cilantro, Parmesan cheese and avocado prior to serving.
More Daily Flavor
Challah French toast with apples and cinnamon crumble
Ham, cheese and onion quiche
Baked eggs in bread bowls with cheese and asparagus