Creamy, spicy pasta
Get ready to twirl those forks! This creamy avocado Alfredo pasta is the perfect complement to chili-spiced shrimp.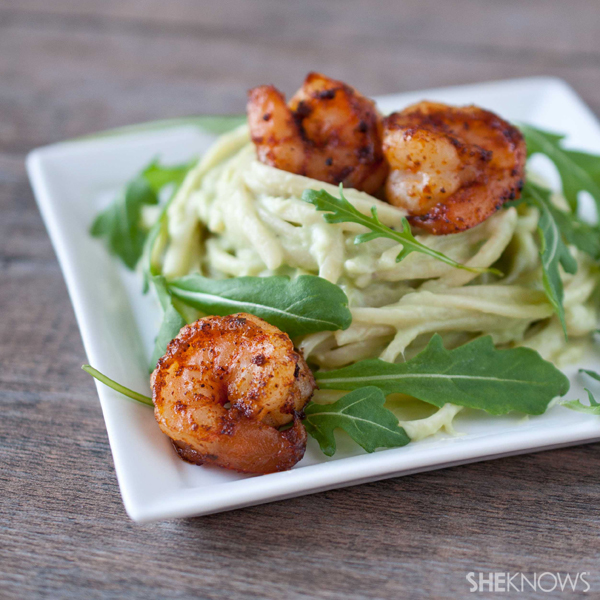 Skip the standard marinara and try this avocado sauce for a creamy alternative with your favorite pasta. It's quick and easy enough for a weeknight dinner but tastes like it took all day to make.
Avocado Alfredo pasta with spicy shrimp recipe
Serves 4
Ingredients:
For the sauce:
2 large avocados
1/2 cup cream
1/2 cup plus 1/4 cup grated Parmesan cheese
1/2 cup plus 1/4 cup whole milk
1/2 teaspoon pepper
1/2 teaspoon salt
4 servings pasta of choice, cooked al dente
1 cup arugula
For the shrimp:
1/2 pound raw shrimp, peeled and deveined
1/2 teaspoon pepper
1 teaspoon chili powder
1/4 teaspoon smoked paprika
1/2 teaspoon garlic powder
1/2 teaspoon onion powder
1/4 teaspoon salt
Pinch cayenne pepper (plus more as desired)
2 tablespoons olive oil
Directions:
For the sauce:
In a food processor add the flesh of the avocados, cream, 1/2 cup Parmesan cheese, 1/2 cup whole milk and process until smooth.
Transfer to a pot over medium-high heat. Simmer until warmed through, about 5 minutes. Add the salt and pepper, plus additional to taste. Add the noodles into the sauce, simmering until noodles have finished cooking, about 3 more minutes (add remaining 1/4 cup milk if sauce becomes dry or thick). Reserve.
For the shrimp:
In a medium bowl, stir together the pepper, chili powder, smoked paprika, garlic powder, onion powder, salt and cayenne pepper. Add peeled shrimp and toss until shrimp are well coated.
In a pan over medium-high heat, heat olive oil until hot but not smoking. Add the shrimp, stirring occasionally, until cooked through, about 6 minutes.
To assemble:
Plate pasta, sprinkle with remaining Parmesan cheese, top with arugula and shrimp. Serve immediately.
More Daily Flavor
Spaghetti carbonara
Pasta with asparagus, pancetta and tomatoes
Quick chicken Marsala over pasta