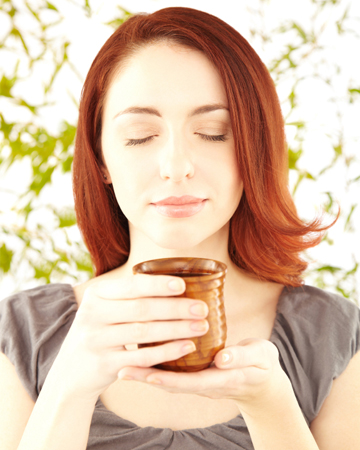 ditch
the coffeE
We all know tea is good for us. With so many different types and flavors out there, we're certain you'll find one you like even if you're not a tea drinker. It's time to start improving our health one sip at a time.
First, let's talk America's number one beverage of choice — coffee. Coffee's not all bad for you. In fact, it can reduce your risk of diabetes, dementia, stroke and even certain cancers.
Keep in mind, though, that it doesn't prevent them, it just reduces your risk. On the flip side, coffee can increase anxiety and cause sleep problems. It can also cause weight gain if you're using significant amounts of creamers or ordering venti Frappuccinos every day from Starbucks. It's important to recognize that while coffee may not necessarily be bad for you, it's not exactly good for you, either. Now, let's talk tea and look at some of the health benefits of consuming tea daily.
Tip: Try not to add milk to your tea, as it can prevent the tea from blocking the absorption of fat.
Tea has antioxidants
Tea contains the antioxidant polyphenol, which can reduce the risk of gastric and skin cancer if you consume more than four cups daily. Even consuming just one cup daily, though, significantly decreases a woman's risk of ovarian cancer. Essentially, antioxidants protect our bodies against age-related diseases.
Drinking tea can help you lose weight
Tea, specifically green tea, combats the absorption of fat in our bodies. Drinking tea helps move digestion along quicker, and it increases your metabolism. Tea also contains caffeine which has been known to aid in weight loss. Try replacing all of your coffee and other beverages with green tea for one week (you can still drink water). We guarantee you'll drop a few pounds.
Tip: Like coffee, tea can stain your teeth. To avoid this, simply drink water after consuming a cup of tea.
Tea is good for your teeth
We all want good dental hygiene and a sparkling white smile, and when toothpaste's not enough, it's time to turn to tea. Tea contains fluoride which strengthens the enamel of the teeth. Again, try not to add any milk or sugar to your tea as it can reduce the effects of the fluoride.
Tea boosts your immunity
With cold and flu season never seeming to come to an end, it's important to get our immunities in gear so we avoid falling victim to these illnesses. Tea can do just that. Drink up, though — as studies show you need about six cups per day to really improve your body's virus-fighting capabilities.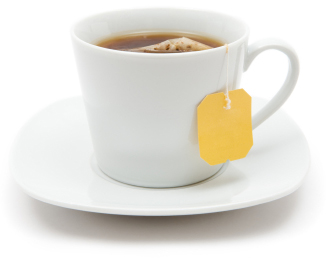 Tea strengthens your bones
Studies show that those who drink tea daily have the strongest bones. Strong bones mean your chances for osteoporosis are significantly decreased as you age. Also, it doesn't matter if you're drinking black, green or oolong tea, as they all have been shown to increase bone density.
Which tea — black, green or oolong — is the best for you?
Did you know? Herbal teas aren't actually teas since they don't come from the Camellia sinensis plant. Though they are good for you, there's not enough research to conclude just how good for you they are.
All tea is derived from the same plant – Camellia sinensis. This means that all teas have the same amount of antioxidants. Darker teas are simply processed longer than their lighter counterparts, but don't lose their health benefits. If caffeine is something you're concerned with, go with green tea as it contains the least amount.
More on teas
Tips for making iced tea
Matcha: The healthiest green tea
4 Refreshing, flavored iced tea recipes for National Iced Tea Day