Baking with beer
Classic lemon cake just got better! Add a little beer to this light and citrusy dessert for a new take on a favorite.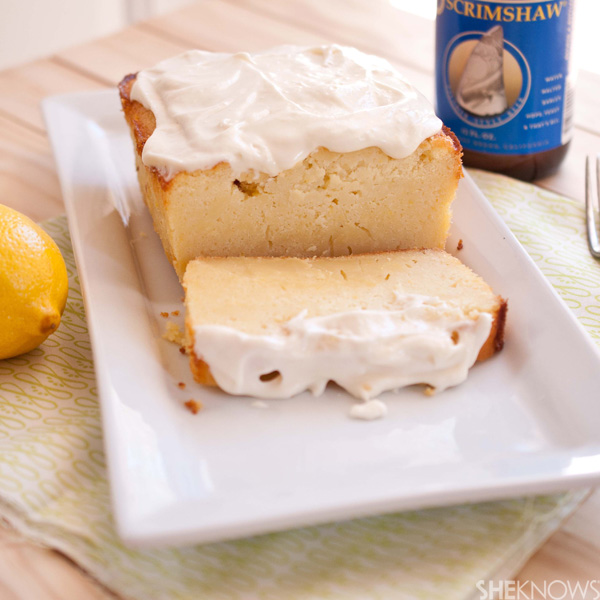 Cooking with beer is common, so why not bake with beer? This lemony cake is the perfect match for a pale lager like Pilsner. The best part is, you get to drink what's left when the cake goes in the oven!
Lemon beer loaf cake recipe
Ingredients: 
For the cake:
1-1/2 cups cake flour
1 teaspoon baking powder
1/2 teaspoon baking soda
1/3 teaspoon salt
2 tablespoons lemon zest
1 cup (2 sticks) unsalted butter
1-1/4 cups sugar
3 eggs
1/4 cup fresh-squeezed lemon juice
1/2 cup Pilsner
Butter-flavored cooking spray
For the icing:
4 ounces cream cheese, softened
1 cup powdered sugar
1/4 cup heavy cream
1/4 cup Pilsner
1/2 teaspoon vanilla extract
Directions:
For the cake:
Preheat oven to 350 degrees F. Spray a large loaf pan with butter-flavored cooking spray.
In a large bowl, combine flour, baking powder, baking soda, salt and lemon zest until well mixed.
In the bowl of a stand mixer fitted with the paddle attachment, cream the butter and sugar until well combined. Add the eggs, one at a time, beating well and scraping the bowl between additions. Add the lemon juice and mix until well combined. Turn the mixer to low and add the flour mixture a little at a time until just barely combined. Do not overmix.
Using a wooden spoon, stir the Pilsner into the batter until just combined. Pour into prepared loaf pan. Bake for 45-55 minutes or until the top turns a light golden brown and a toothpick inserted in the center comes out clean. Cool before icing.
For the icing:
In the bowl of a stand mixer, beat the cream cheese and powdered sugar until well combined. Add the remaining ingredients and beat until smooth.
Top the cake with the icing. Chill cake prior to serving.
More Daily Flavor
Salted turtle cookies
Nutella and cherry pizza
Persimmon and yogurt parfaits