A pizza surprise inside
Fresh rolls are hard to beat but they're even better when they're stuffed with pizza toppings! Use premade pizza dough to get these pretzel rolls on the table in a hurry.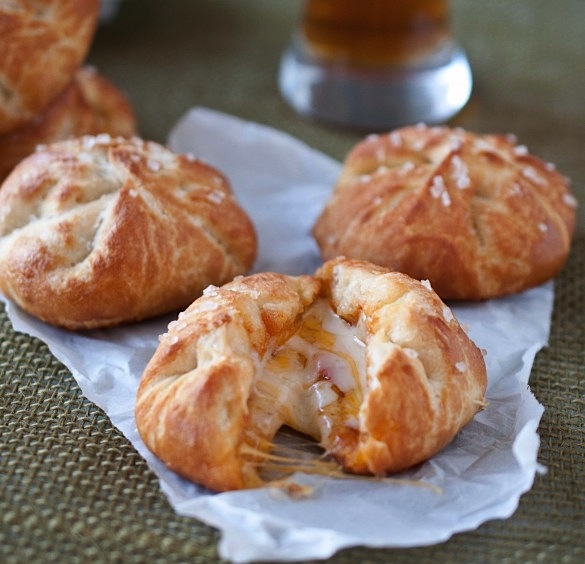 Change things up for your next pizza night and make pizza-stuffed pretzel rolls instead. The whole family will love these cheesy treats!
Pizza-stuffed pretzel rolls recipe
Yields 16
Ingredients:
1 batch premade pizza dough
1/2 cup marinara sauce
2 ounces pepperoni, chopped
1/2 cup shredded cheese (like mozzarella or cheddar)
Flour
2 tablespoons sugar
1/4 cup baking soda
3 tablespoons melted butter
Coarse salt
Directions:
Preheat oven to 350 degrees F.
Lightly flour your work surface and shape the dough into a long log. Cut log into 4 equal pieces, then cut each piece in half again, making 8 pieces. Cut each piece in half again to make 16 pieces of dough.
Roll each dough piece on a lightly floured surface with a rolling pin. Top with about 1 to 2 tablespoons of sauce, 2 tablespoons cheese and 1 tablespoon pepperoni.
Wet your fingertips with water and wet the edges of the dough, then pull dough up and pinch the edges closed tightly, like a dumpling.
Line a baking sheet with a nonstick baking mat (like Silpat) and place rolls on top.
Fill a large pot with water, leaving room for water to bubble (and deep enough for the rolls to fit in). Add the sugar and bring to a boil, then add the baking soda (watch for bubbling), then add the rolls (about 4 at a time). Allow rolls to boil for about 30 seconds, remove with a large slotted spoon and return to the baking sheet.
Brush with melted butter and sprinkle with coarse salt.
Bake for about 15 minutes or until a dark golden brown. Serve warm.
More Daily Flavor
Avocado, white cheddar & tomato grilled cheese
Buffalo chicken meatballs
Burnt ends grilled cheese sandwich