Flavor Switchup!
Stuffed shells don't just have to be an Italian dish. We have stuffed them with taco-flavored meat and lots of delicious Mexican cheeses. It's your new Taco Tuesday dish!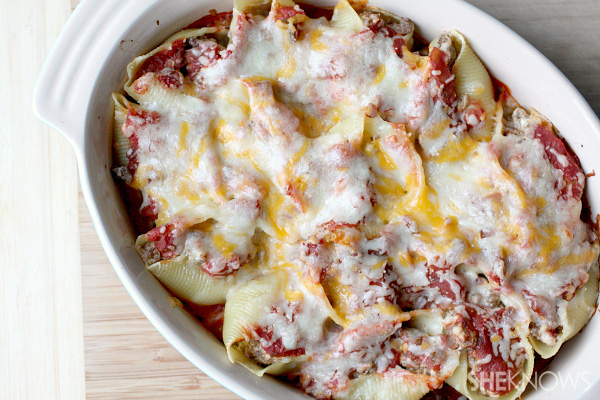 Stuffed shells do not just have to take on a Italian flair. These tasty dinner treats are stuffed with Mexican flavors and covered in lots of cheese. Who wouldn't love that? Plus this is a great way to use up that half jar of salsa just sitting in your refrigerator.
Stuffed Mexican shells recipe
Yields 16 stuffed shells
Ingredients:
1 pound ground beef
1 packet taco seasoning
4 ounces cream cheese
16 large pasta shells
1 cup medium-spiced salsa, divided (more if desired)
1 cup shredded Mexican blend cheese
Directions:
Brown ground beef, drain and add in package of taco seasoning. Prepare meat according to taco seasoning packet directions.
Once cooked down, add in cream cheese and stir until it's completely combined. Set aside.
Add water to a large pot and put on stove to boil. Once boiling, add in 1 tablespoon kosher salt and large pasta shells. Boil till al dente.
Once shells are cooked, drain, lay out in a single row and cool till they are cool enough to touch. Fill each shell with taco/cream cheese mixture. Start off by adding 1 tablespoon per shell and then adding more if there is leftover filling.
Preheat oven to 350 degrees F.
Add 1/2 cup salsa to the bottom of an 8 x 8-inch pan and put stuffed shells into the pan so they are snug. Top shells with remaining 1/2 cup salsa.
Cover with foil and bake for 30 minutes until everything is warm.
Take off foil and sprinkle with cheese and bake for another 15 minutes until cheese is melted and bubbling.
More pasta recipes
BLT pasta recipe
Ratatouille pasta recipes
Sausage, cheese & sun-dried tomato pasta recipe