Boozy Version Of This McDonald's Favorite
You can't have a proper St. Patrick's Day without a shamrock shake in one hand and a strong cocktail in the other, right? To make things a little easier on your drinkin' this year, we've combined the two into one super-boozy drink!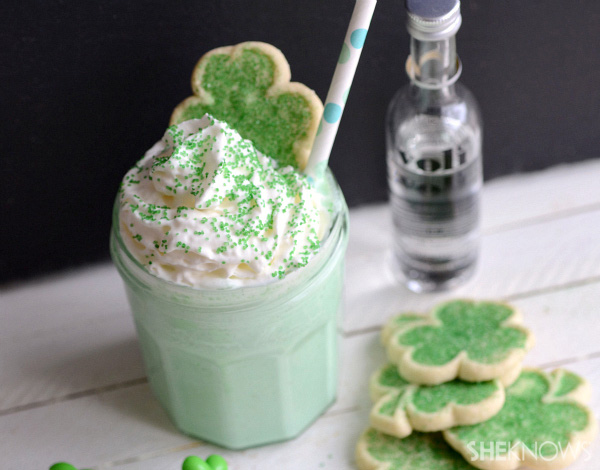 Forget the drive-thru this year and make your own shamrock shake at home, with the addition of vodka. Then, celebrate like a true Irishmen and chug it down — but watch out for brain freezes!
Boozy shamrock shake recipe
Serves 2
Ingredients:
2-1/2 cups vanilla ice cream
3/4 cup milk
1/3 cup whipped cream, plus more for garnish
3 tablespoons vodka (we used Voli lyte)
2 tablespoons crème de menthe
Green food coloring
Green sprinkles and shamrock cookies
Directions: 
Place the ice cream, milk, whipped cream, vodka, crème de menthe and a few drops of food coloring into a blender. Blend on low until the mixture is thick and creamy. Add additional crème de menthe for a mintier flavor.
Pour shakes into jars or milkshake glasses. Garnish with more whipped cream, green sprinkles and a shamrock cookie.
More St. Patrick's Day recipes
Desserts go green for St. Patrick's Day
7 Lucky St. Patrick's Day cocktails
Dark chocolate Guinness cupcake recipe