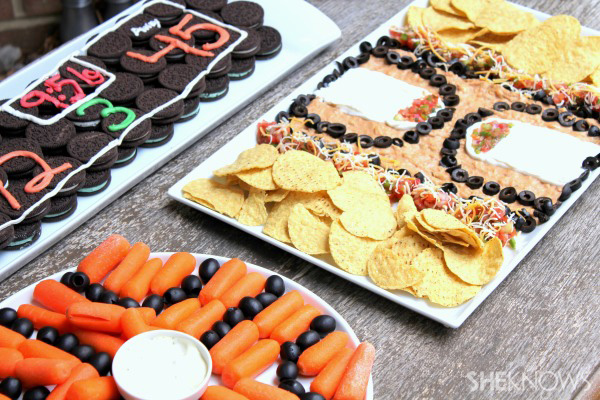 Snack Stadiums aren't just for Football!
It's time for March Madness! Take your love of basketball and cheering on your team to a whole new level and create basketball- or team-themed party trays! From basketballs to scoreboards, there is no end to the creativity!
Come game day, only two things matter: the game and the food. Why not make it memorable? Creating basketball-themed snack trays will liven up your buffet table and add to the overall enthusiasm and excitement of the game!
You can turn your veggies into a centerpiece! A basketball veggie tray made of olives and carrots is a simple addition to the table. To create the look, start with a round platter. Lines can be made from any vegetable, but for a traditional basketball it's easiest to use olives. Start by creating a plus sign across the entire platter, and then add in the quarter circles in between. Fill in the remainder with carrots, and you have yourself a scrumptious and healthy basketball veggie tray! To take it to the next level, look up basketballs in your team's colors! Cauliflower for white and cherry tomatoes for red! There is no end to the creativity!
Contrary to the old saying, it does matter who wins and who loses and how you play the game! If winning didn't matter, we wouldn't have a scoreboard! You can create one to add to your snack table by layering your favorite homemade cookies into a large rectangle. Try to have at least two layers so less of the platter shows through the gaps between each cookie. Use buttercream icing to pipe a clock, scores, an outline and period numbers onto your cookie canvas. Your scoreboard is now complete, and hopefully close to the final score of the game!
Seven-layer dip is a long-standing tradition for many snack tables. For this snack, ditch the layers and take a deconstructed approach to your dip! You can create a full basketball court in just a few simple steps!
Ingredients:
16 ounces refried beans
2 cups shredded cheddar cheese
8 ounces sour cream
16 ounces guacamole
1 cup salsa
1 cup black olives, sliced
2 green onions, sliced
Directions:
Instead of putting the refried beans on the bottom, they'll take center stage. Spread the guacamole on the bottom of the tray, covering with a layer of refried beans. Use the sour cream to create the key. Consider piping it on using a pastry bag. Sliced black olives are ideally suited for the three-point line. Your court is easily rounded out with salsa, cheese and sliced green onions on the sidelines. Every piece of the seven-layer dip is there, ready and perfectly assembled to cheer on your alma mater!
More great game-day treats
Slam-dunkable finger foods for game day
Pick-and-roll pretzel rolls
Full court press: Panini press sandwiches