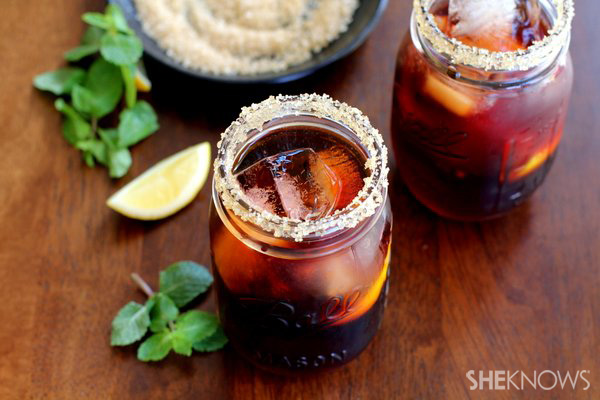 Don't Miss a minute
of the game
Whether you're a basketball fan or not, you won't miss a minute of the fun with these make-ahead cocktails. These are perfect for catching your favorite team during March Madness or for any occasion this spring.
The secret to hosting a fun, relaxed get-together is to prepare in advance. Whether your team is on in the morning, afternoon or evening, these make-ahead cocktails will ensure that you can focus on the game or catch up with your guests. Mix up a pitcher of one of these refreshing cocktails and refrigerate overnight. Just stir and serve!
Serves 6
With Atlanta hosting the Final Four this year, serve up a spiked version of this sweet Southern favorite.
Ingredients: 
8 bags black tea, divided
1 cup vodka
10 cups boiling water
1 cup granulated sugar
1/2 cup turbinado sugar (or other large-grain sugar)
Lemon wedges for garnish
Mint sprigs for garnish
Directions: 
In a small bowl or jar, combine two tea bags and vodka. Allow to steep at room temperature for one hour. Discard tea bags.
In a large pitcher, combine the remaining six tea bags and 10 cups boiling water. Allow to steep for 15 minutes. Discard tea bags. While the water is still hot, add the granulated sugar and stir vigorously until sugar dissolves.
Pour vodka over the sweetened tea and refrigerate until ready to serve.
When ready to serve, pour turbinado sugar on a small plate. Run a lemon wedge around the rim of six glasses. Dip the rims in the turbinado sugar. Add ice to the glasses. Stir the tea and pour into the prepared glasses. Serve immediately with lemon wedges and mint sprigs.
Serves 6
This refreshing cocktail, loaded with citrus flavor, is a much-needed reminder that spring is just around the corner. Serve these bright drinks with extra lemon and lime wedges on the side.
Ingredients: 
2 oranges
2 lemons, sliced into rounds
2 limes, sliced into rounds
1 bottle of dry, fruity white wine (sauvignon blanc or pinot grigio)
1/2 cup cognac
2 cans club soda, chilled
Mint sprigs for garnish
Directions: 
Slice one orange in half and squeeze the juice into a large pitcher. Discard the peel. Slice the remaining orange into rounds. To the pitcher add the sliced orange, lemons and limes. Add the white wine and cognac. Chill in the refrigerator overnight.
When ready to serve, pour the sangria over ice in glasses. Top each serving with 1/4 cup club soda, and garnish with mint sprigs.
Serves 6
Early game? You'll love this cocktail's bright, refreshing mix of pineapple and lime.
Ingredients: 
1 cup water
1/3 cup granulated sugar
Juice squeezed from 6 limes
6 cups pineapple juice
6 ounces white rum
Pineapple slices for garnish (optional)
Directions: 
In a small saucepan, heat the water and granulated sugar until the sugar dissolves. Pour the water into a large pitcher and allow to cool to room temperature. Add lime juice, pineapple juice and white rum. Refrigerate until ready to serve. Pour over ice and add pineapple slices as garnish.
More great cocktail recipes
6 Vodka cocktail recipes
3 Rose wine cocktail recipes
3 Apricot cocktail recipes