Breakfast Shake For
The Overindulged
So you overdid it on Fat Tuesday. No worries; that's part of the tradition. But if you need to get yourself back and at 'em for work on Wednesday, make this vitamin-packed Mardi Gras-purple shake.
This antioxidant- and potassium-packed shake is the perfect cure for that day-after-Mardi-Gras hangover. With a variety of berries, banana and other fruits with almond milk to mix, it's healthy, too!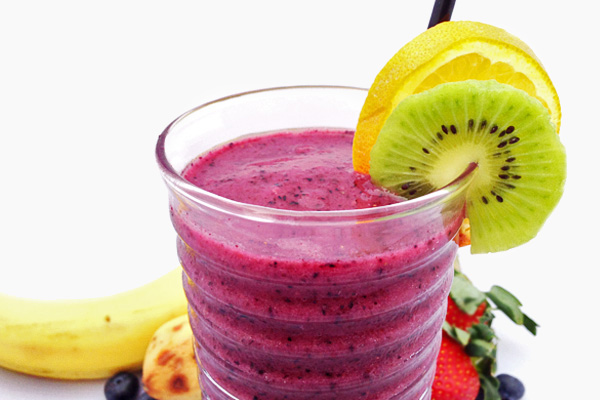 Fat Tuesday hangover cure shake recipe
Serves 1-2
Ingredients:
6 ounces almond milk
6 ounces pomegranate juice
4 ounces frozen blueberries
4 ounces frozen mixed berries
4 ounces frozen strawberries
2 ounces papaya
2 ounces guava
1 banana, peeled and roughly chopped
1 slice kiwi (optional)
1 slice lemon (optional)
Directions:
Soak the frozen fruit in almond milk overnight in the refrigerator. The fruit should partially thaw and make for a smoother — and more drinkable — consistency.
When you're ready to banish your hangover, add the papaya, guava and banana (which you can prepare the day before), pour it all into a blender and blend until smooth. Start slowly until you see a vortex begin to form and slowly increase the speed.
Garnish with kiwi and/or lemon slices for an extra-tart finish.
N0te
If you forget to refrigerate your smoothie overnight, be sure to use the liquid ingredients first and then slowly add in the frozen fruit. Always remember to start slowly. Increasing speed too quickly will create an air bubble and cause the blender's blade to spin uselessly.
More hangover cures
How to cure a hangover
Best hangover foods
Hangover helper: Gwyneth Paltrow's Goop to the rescue