It's worth the wait
This spicy chicken, sausage and shrimp gumbo takes some time to make, but after one bite you'll know it was worth the wait.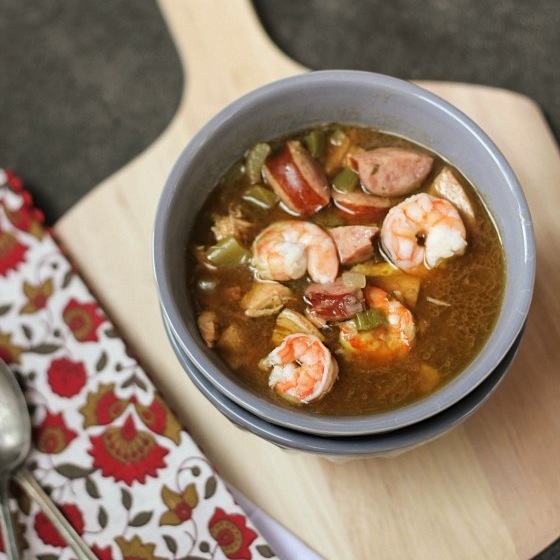 While we don't normally spend 90 minutes making one component of a recipe, we happily make an exception for roux. After all, that's where most of the flavor of this gumbo comes from. Throw on an apron, grab a glass of wine and get ready to stir.
Chicken, sausage and shrimp gumbo recipe
Yields 8 large portions
Ingredients:
1/2 cup vegetable shortening
1/2 cup all-purpose flour
1 large yellow onion, diced
2 celery stalks, diced
2 green bell peppers, diced
1 tablespoon chopped parsley, divided
2 bay leaves
2 teaspoons crushed red pepper flakes (plus more to taste)
Salt (to taste)
Pepper (to taste)
1 pound bone-in chicken pieces
1 pound Polska Kielbasa-style sausage (or other fully cooked sausage), cut into half moons
1/2 pound peeled shrimp, deveined and tails removed
Cooked white rice
Directions:
Fill a large stockpot with about 10 quarts water and bring to a boil.
While the water comes to a boil, make the roux. Melt the shortening over medium heat in a cast-iron skillet until it's melted, stirring occasionally with a wooden spoon. Once melted, add the flour and stir to form a paste.
Stir the roux continuously with a wooden spoon as the roux changes color, about 90 minutes, until dark.
Once the roux is dark, turn off the heat and carefully add a ladle of the boiling water to the roux to loosen it up. Stir carefully to get as much of the water and roux to mix, then pour the roux into the pot of boiling water and stir to combine.
Add onions, celery, green peppers, parsley, bay leaves, 2 teaspoons crushed red pepper flakes, salt and pepper to the pot. Add the chicken and boil the gumbo until the chicken is cooked through. Once cooked, remove the chicken from the pot and take the meat off the bones. Return chicken to pot and add the sausage. Remove from heat. Let the gumbo cool and chill overnight.
When ready to serve, bring the pot back to a simmer, add the shrimp and cook until just done, 5-10 minutes depending on size. Add more crushed red pepper flakes to taste and reduce heat to the lowest setting until serving.
Remove the bay leaves before serving. Serve with hot white rice.
More Daily Flavor
Chicken tortilla soup
Buffalo chicken soup with orzo
Chicken noodle soup in a bread bowl