(page 2 of 2)
Antonia Lofaso
talks heart health
With more than 42 million women suffering from heart disease in the U.S., focusing on a healthy lifestyle has never been more important. Check out these healthy living and eating tips from a recent interview with Top Chef alum Antonia Lofaso.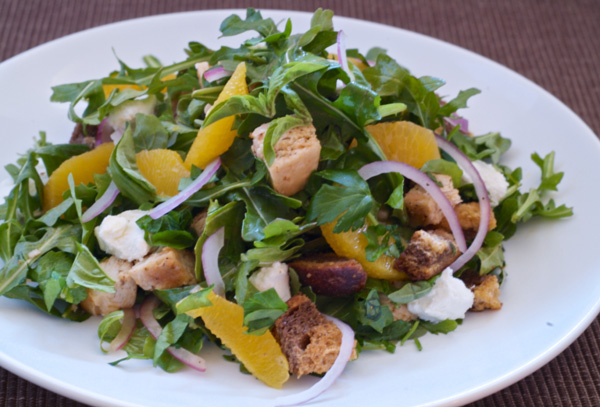 Goat cheese panzanella with chicken, tangerines and tomato vinaigrette recipe

Serves 4
Ingredients: 
3 ounces crumbled reduced fat goat cheese
6 cups arugula
6 tangerines, supremed
2-4 ounces butterflied chicken breasts
1/2 small red onion, shaved
4 pieces Pepperidge Farm Whole Grain 100% whole wheat bread
1 tablespoon extra-virgin olive oil
1/4 cup white balsamic vinegar
2 tablespoons Campbell's Healthy Request condensed tomato soup
3 tablespoons chopped flat-leaf parsley
4 tablespoons freshly picked basil
2 tablespoons chopped shallots
Salt and pepper to taste
Directions: 
Preheat oven to 250 degrees F. On a medium baking sheet, brush 2 teaspoons olive oil on Pepperidge Farm Whole Grain 100% whole wheat bread and allow to dry out in the oven for about 15 minutes until bread becomes crisp to the touch. Break dried bread into 1/2-inch pieces, about the size of a large crouton, and set aside.
In a medium mixing bowl, whisk together vinegar, Campbell's Healthy Request condensed tomato soup, shallots and chopped parsley. Slowly stream in remaining olive oil and season to taste with salt and pepper. Set aside.
Prepare chicken breasts. Season with salt and pepper and coat lightly with nonstick cooking spray. Place chicken breasts on a suitable high-heat baking sheet and place in broiler on high for 3 minutes on each side. Allow to cool. Chop once cooled.
In a large mixing bowl, combine arugula, red onion, bread, chopped grilled chicken, goat cheese and dress lightly with tomato vinaigrette. Garnish with tangerines and fresh basil before serving.
More celebrity chef interviews
A look at The Layover & Bourdain's next steps
Man Candy Mondays: Curtis Stone
Celebrity chef Katie Lee dishes Mexican meal ideas for the single lady