Say yes to yogurt
The benefits of yogurt are numerous (a great source of calcium, protein and probiotics for digestive health), and you can't beat its taste and convenience as a favorite grab-and-go food. Once in a while, it's fun to switch things up with your favorite food and create dessert with it!
What will you do to celebrate National Yogurt Day on Feb. 6? Instead of simply popping the top to your favorite breakfast brand, make a dreamy dessert with Liberté Yogurt. Liberté is a yogurt brand that has made its way to the United States via Montréal.
Delight in dessert
Liberté boasts two creamy artisan varieties, Méditerraneé, which is rich and thick and available in several fruit flavors, and its 0% fat Greek-style yogurt, which also comes in several fruit flavors as well as plain. Yogurt can be versatile, and we can prove it with these two decadent desserts! For something different, serve yogurt for dessert. You can go back to breakfast tomorrow!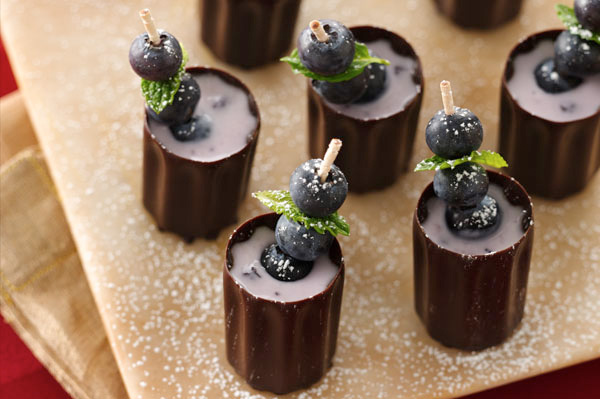 Blueberry martini cordials
Recipe courtesy of Liberté Yogurt
Yields 18 cordials
Ingredients:
1 (6 ounce) container Liberté Méditerraneé blueberry yogurt
1/4 cup vanilla flavored vodka (optional)
18 chocolate cordial cups
18 blueberries
Toothpicks
Mint sprigs for garnish
Powdered sugar for garnish
Directions:
In small bowl, mix yogurt and vodka until well blended.
Spoon the yogurt mixture into the cordial cups.
Place the blueberries onto toothpicks, and place in the cups.
Garnish each with a mint sprig and sprinkle of powdered sugar.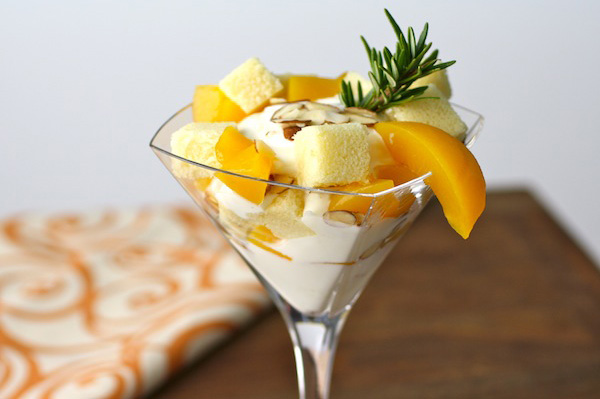 Peach and passion fruit pound cake parfait
Yields 1 parfait
Ingredients:
1 (6 ounce) container Liberté Méditerraneé peach and passion fruit yogurt
4-6 ounces cubed peaches (either jarred or fresh), plus one slice peach for garnish
1 slice of pound cake, cubed
1 teaspoon slivered almonds
1 rosemary sprig for garnish
Directions:
Use a clear glass, such as a martini glass, to serve this parfait. You will add two layers of each ingredient, with a final third layer of fewer ingredients. Layer as follows:
Add 1/3 of the yogurt to the bottom of the glass topped with 1/3 of the peaches, a sprinkle of slivered almonds and 1/3 of the pound cake cubes.
Add the second layer, just as the first.
For the third layer you'll use less of all the ingredients, almost as a garnish. Use a dollop of the yogurt, a few slivered almonds, a few peaches and a few cubes of the pound cake.
Garnish with a sprig of rosemary and a peach slice attached to the side of the glass.
Dig in to a yogurt dessert!
More about yogurt
Why yogurt is a top-rated health food
Green Goddess dip made with yogurt
Shrimp corn cakes with lemon-yogurt dressing