Eat your greens
Who can resist bite-size appetizers? These lightened-up spinach dip cups are a fun way to serve a classic party food.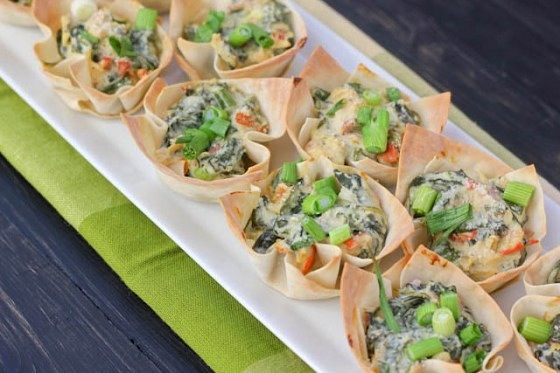 Take spinach dip to another level by serving it in bite-size cups made of baked wonton wrappers. They're perfect for brunch, a baby shower or a cocktail party.
Bite-size spinach dip cups recipe
Yields 12
Ingredients:
24 wonton wrappers
2 teaspoons olive oil
1 shallot, minced
1 clove garlic, minced
1/2 cup chopped green onions, divided use
1/4 teaspoon salt
1/4 teaspoon pepper
1/2 teaspoon dried thyme
1 package (1.4-ounce) vegetable dip mix (like Knorr)
2 cups fresh baby spinach leaves
Juice of 1 lemon
6 ounces plain Greek yogurt
Directions:
Preheat oven to 350 degrees F.
Layer 2 wonton wrappers and press into each cup of a muffin tin. Bake for 5-6 minutes or until the tips of the wonton wrappers begin to brown. Remove from oven and reserve, leaving in muffin tin.
Meanwhile, heat the oil in a large skillet. Saute the shallot, garlic and half of the green onions until softened. Add the salt, pepper and thyme and stir in baby spinach. Cook until spinach is wilted, stirring frequently. Add vegetable dip mix, lemon, garlic and yogurt and stir well to combine.
Divide filling evenly into each of the prebaked wonton cups, about a heaping tablespoon each.
Bake for 10 minutes until filling is lightly browned. Top with remaining green onions. Serve warm or room temperature.
More Daily Flavor
Buffalo chicken meatballs
Thai chicken lettuce wraps
Truffle-roasted tomato hummus