Winter warm-ups
Chicken noodle soup is the perfect cold weather meal. Serve it in fresh bread bowls for a fun twist.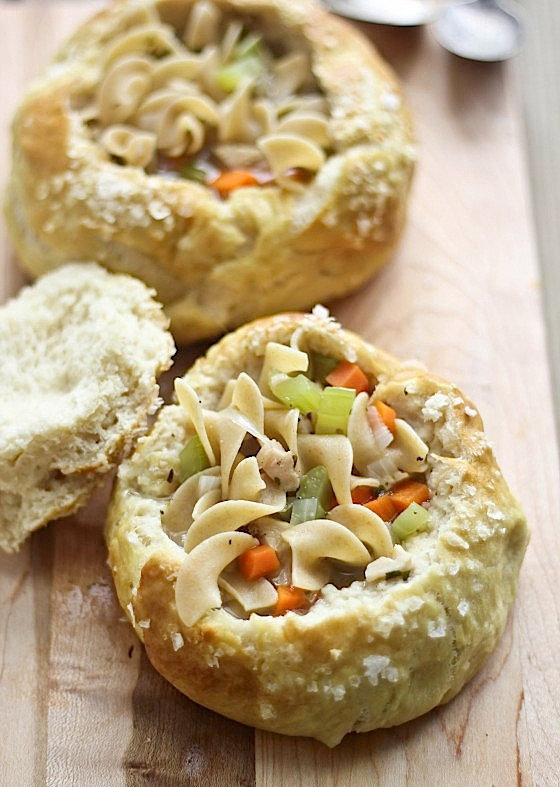 Feeling a little under the weather? It's nothing that a big bowl of classic chicken noodle soup can't help. Make this version even easier by using store-bought rotisserie chicken.
Chicken noodle soup in a bread bowl recipe
Serves 4
Ingredients:
For the chicken:
2 teaspoons olive oil
1 pound boneless, skinless chicken breasts
1/4 teaspoon salt
1/4 teaspoon black pepper
For the soup:
2 teaspoons olive oil
1 medium yellow onion, chopped
2 cloves garlic, minced
2 carrots, chopped
3 celery stalks, chopped
1 teaspoon dried parsley
1 teaspoon dried thyme
1/2 teaspoon dried sage
1/2 teaspoon dried oregano
2 bay leaves
8 cups chicken stock
8 ounces egg noodles
4 small bread boules
Salt
Pepper
Directions:
For the chicken:
Preheat the oven to 400 degrees F.
Brush the chicken breasts with olive oil and season with salt and pepper. Place on a nonstick rimmed baking sheet and roast in the oven for about 20 minutes, until the chicken is cooked through.
Remove from the oven, cool for 10 minutes, and shred with two forks. Reserve.
For the soup:
Heat the olive oil in a large Dutch oven and add the onion, garlic, celery and carrots. Season with salt and pepper and cook until vegetables begin to soften. Add the parsley, thyme, sage, oregano and bay leaves. Cook for another 7-8 minutes until the veggies are very tender. Pour in the stock and bring to a simmer. Simmer for 10 minutes.
Add the egg noodles and continue to simmer until they are cooked through. Add the shredded chicken. Remove the bay leaves. Season with salt and pepper to taste.
Cut off the tops of the bread boules and hollow out the insides. Ladle soup into bread bowls and serve immediately.
More Daily Flavor
Buffalo chicken soup with orzo
Chicken tortilla soup
Quick chicken Marsala