A twist on the traditional
Amp up traditional hummus with truffle-roasted tomatoes. Trust us — it's worth the splurge and is the perfect addition to your cocktail party spread.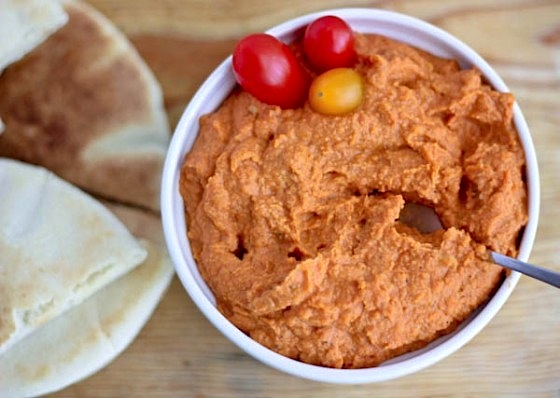 Truffle oil might be a bit pricey, but once you taste it, there's no going back. It adds amazing flavor to any dish, like simple hummus with roasted tomatoes.
Truffle-roasted tomato hummus recipe
Yields 2 cups
Ingredients:
For the tomatoes:
16 ounces grape tomatoes, halved
1 head garlic, peeled
2 tablespoons truffle oil
1 tablespoon olive oil
1/2 teaspoon salt
1/2 teaspoon pepper
For the hummus:
1 can garbanzo beans
2 tablespoons tahini
2 tablespoons lemon juice
Salt
Pepper
1-2 tablespoons olive oil, if necessary
Directions:
For the tomatoes:
Preheat the oven to 400 degrees F.
Place the halved tomatoes and garlic in a large bowl and toss with truffle oil, olive oil, salt and pepper.
Transfer to a large rimmed baking sheet and spread into an even layer. Roast for 15-20 minutes until the tomatoes are soft and the garlic is fragrant.
For the hummus:
Drain and rinse garbanzo beans. Allow beans to drain of excess water.
Using a slotted spoon, remove the roasted tomatoes and garlic from the baking sheet, reserving the liquid. Place tomatoes and garlic into a food processor and process until smooth. Add the garbanzo beans, tahini and lemon juice and process until smooth. Stream in the reserved oil (from the roasted tomatoes) until blended. If hummus is too thick, add olive oil one tablespoon at a time.
Serve with pita bread and veggies.
More Daily Flavor
Black bean hummus
Cheesy ranch and red bell pepper dip
Slow-roasted tomatoes