Grilled cheese
for dessert
Biscoff spread makes everything better, even grilled cheese sandwiches. This dessert version, with caramelized bananas and cream cheese, will knock your socks off.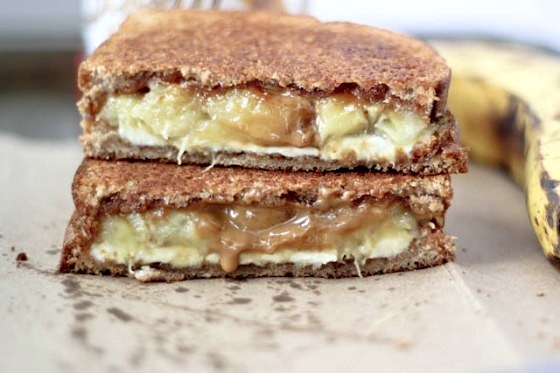 Why eat a grilled cheese sandwich for lunch when you can have one for dessert? You might never go back to the standard American cheese-laden sandwich after you try this creamy, caramelized banana concoction.
Biscoff and banana grilled cheese recipe
Yields 1
Ingredients:
1 medium banana, sliced
2 teaspoons honey
2 slices sandwich bread
2 tablespoons creamy Biscoff spread
2 ounces cream cheese, thinly sliced
Directions:
Heat a small pan over medium-low heat. Add the banana slices and drizzle with honey. Cook for 3-4 minutes on each side until caramelized and golden brown. Remove from skillet and set aside.
Heat a griddle pan or skillet over medium heat. Butter one side of each piece of bread. Place one piece of bread, butter side down, on the pan. Spread about 1 tablespoon of Biscoff on the bread, top with the bananas and cream cheese. Spread the remaining Biscoff on the other slice of bread and place on top of the cream cheese, butter side up.
Cook the sandwich for 3-4 minutes on each side until the bread is toasted and the cream cheese is melted.
Serve warm.
More Daily Flavor
Roast beef and caramelized onion grilled cheese sandwich
Pepperoni and cheese stuffed ciabatta
Burnt ends grilled cheese sandwich